FOUNTAIN POWERBOATS BOAT COVERS FROM NATIONAL BOAT COVERS
National Boat Covers offers the widest variety of high-quality boat covers for Fountain Powerboats. Choose the perfect fit boat cover for your exact model and size Fountain Powerboat using our drop down selector menu. Our boat covers are made with waterproof heavy-duty marine grade fabrics such as Sunbrella, Sunflair, and Marinex. These are the best semi-custom fit covers on the market today.
Call our USA based cover experts for assistance. 800.616.0599.

Find your FOUNTAIN POWERBOATS Boat cover below: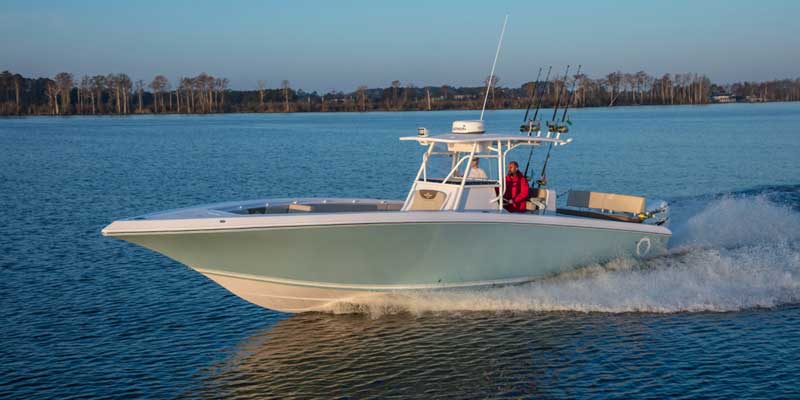 ABOUT FOUNTAIN POWERBOATS
Founded in 1979 by competitive boat racer Reggie Fountain, Fountain Powersports pursuit for excellence in the boating industry has made the brand a performance leader. Dedication to quality assurance for Fountain Powersports includes the water testing of every boat. Fountain Powersports line-up of watercraft span stretches across fishing boats, sport boats and express cruisers.
FOUNTAIN POWERBOATS FACTS
Fountain Powerboats launched in 1972 with the single minded goal of building the fastest, smoothest, safest, best-handling and most dependable boats on the water. The company's boat performance superiority has been proven time after time on race courses worldwide.
Popular Fountain Powerboats Boat Models:
27 SE
27 SPORT
27 SPORT FISH
27 SPORT FISH CRUISER
29 CABIN
29 CC
29 CENTER CONSOLE
29 CENTER CONSOLE TOURN
29 FEVER
29 FEVER II
29 SB
29 SFC
29 SPORT CRUISER
29 SPORT FISH CRUISER
31 CABIN
31 CC
31 CC CUDDY
31 CC OPEN BOW
31 CENTER CONSOLE
31 SFC
10M EXECUTIONER/OS
10M SPORT/OS
10M SPORTFISH
12M SPORT/OS
23 CENTER CONSOLE
23 CENTER CONSOLE TOURN
23 FX
23 SPORT FISH CRUISER
23 SPORT FISH MOD CONSOLE
24 COMPETITION
24 CS
25 CABIN
25 CC
25 CENTER CONSOLE
25 COMPETITION
25 SFC
25 SPORT FISH
25 SPORT FISH CRUISER
27 CLASSIC
27 FEVER
31 SPORT
31 SPORT EDITION
31 SPORT FISH
31 SPORT FISH CRUISER
31 SPORT RUNABOUT CUDDY
31 TOURNAMENT EDITION
31CC SPORTFISH
32 CABIN
32 CENTER CONSOLE
32 FEVER
32 SB
32 SC
32 SFC
32 SPORT CRUISER
32 SPORT FISH CRUISER
33 LIGHTNING
33 LIGHTNING SWIM
33 LIGHTNING/OS
33 SPORT FISH CRUISER
34 CENTER CONSOLE