This question gets asked all the time and for good reason. There are hundreds of different brands, models and types of boat covers all claiming to be the best and it can be difficult choosing which one is right for you. The most important factors are fit, weather, style and budget. We'll go over the primary criteria that you will need to consider when choosing a boat cover along with some of our personal recommendations.
The single most important factor in choosing a boat cover is fit. It doesn't matter what the cover is made of or what it looks like if it doesn't fit properly. Covers that are too small leave boat surfaces exposed to the elements and provide a perfect opportunity for gaps that allow water and snow inside. Covers that are too big allow water to pool on the cover. They also allow wind to get under them and shift the cover around. The purpose of a cover is protection above all else. If the cover doesn't fit, it will not properly protect.
MEASURE YOUR BOAT! You need proper measurements to ensure the cover you are purchasing will fit properly. You'll want to measure the centerline (length) and the beam (width) and write it down.
To find the length of your boat, measure from the tip of the bow to the center of the stern. If you have anything protruding past the stern (other than a motor or motor leg), include it in the overall length. Always measure in a straight line and not up and over windshields or rails. The measurement should include aftermarket extensions or upgrades such as bow pulpits, transom brackets or swim platforms. If you intend them to be covered, it is important that they are included.
To find the width, measure the widest point of your boat. Do not include bumpers or other items that will be removed prior to covering. Just like with the length, measure in a straight line. With both length and width measurements, any parts that you remove prior to covering should not be included.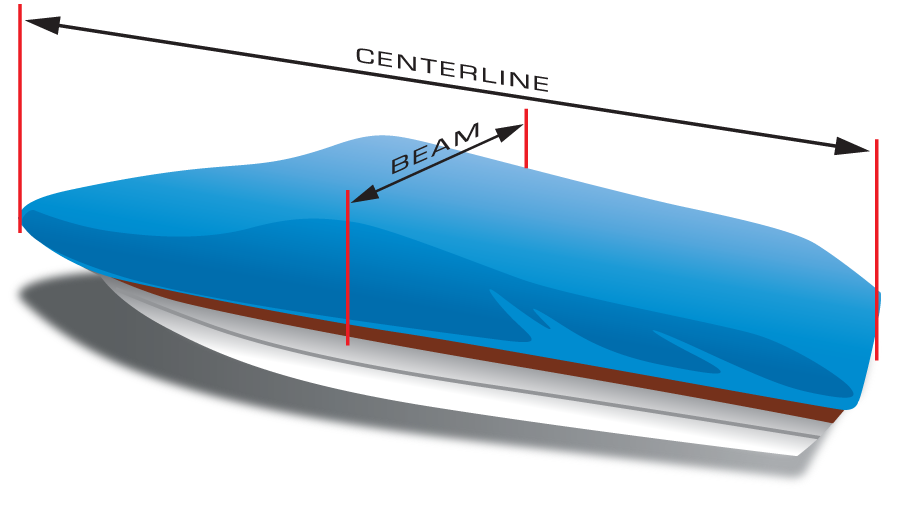 Another big factor in choosing a cover is determining what you'll be protecting your boat against. It is very easy to spend extra money protecting your boat from elements that it won't be exposed to. It's also easy to choose a cover that is great at protecting from one type of element while ignoring one that is a very real problem in your location.
If you are covering your boat while stored in a covered building, your primary focus should be on keeping dust, pests and dirt from accumulating. However, if you are storing your boat outside, you'll want to consider snow, rain, wind and sun. Purchase a cover that will effectively protect your boat from everything it will be exposed to will save you serious headaches in the future.
Will your boat be exposed to the rain or snow? If so, ensure that your boat cover is waterproof. Any boat owner will know that there are few things worse than water sitting in your boat. It will destroy seals, seats, interiors, flooring and provide a perfect place for mold and mildew to grow. Any decent boat cover will be waterproof, so this is not usually an issue. However, doublecheck to be sure.
Do you live in an extremely hot climate with a lot of sun? There are two main things you need to look for: UV protectant and heat reduction. Rain and snow get so much attention, that many people forget how much damage the sun and heat can do to your boat. The sun can crack seals, ruin seats and fade any colors exposed to it. Extreme heat experienced in the high desert has its own problems. Even breathable fabrics are like a blanket for your boat. If it's 100+ degrees Fahrenheit, your boat is getting cooked. Manage the heat with specially made heat reduction fabrics.
Once you've measured your boat and have the list of elements that you need to protect against, you can move on to the fun part! Make your covered boat look good. There are numerous colors and fabrics available that can make your boat look incredible even when you're not out on the water. However, there are some important things to consider here.
The biggest thing to consider is how the cover is dyed. Even cheap covers can look great out of the box. The real test is whether it will continue to look good after spending time in the sun and rain. There are several methods of dyeing boat cover fabric that have varying degrees of resistance to fading, discoloration and cracking.
To prevent discoloration from mold and mildew, ensure your cover has antimicrobial properties and is breathable. You should also ensure that the cover fits snuggly without dips where water can sit. This applies not only to boat covers used outside, but boats in covered storage as well. If you've ever had to clean mildew stains off fabric, you'll know how badly it can ruin the look.
The most common type of discoloration comes from the sun. UV rays break down the dye in many covers causing fading and splotchy discoloration. Solution dyed fabric is an imperative. Instead of just covering the outside with dye, a solution dyed fabric penetrates the individual threads. This prevents fading and will ensure your cover lasts. A proper UV resistant fabric will maximize the protection.
Doing It All Within Budget
The next step is finding a cover that fits in your budget. It is very important to create a balance between what you want, what you need and what you can afford. A cheap cover is generally better than no cover, but for the sake of your boat, we recommend listing out your requirements and then working on pricing. There are certain items that simply cannot be compromised on such as waterproofing.
A major consideration should be how long the cover will last. Oftentimes, an extremely cheap cover will need to be replaced every year. This puts you in a situation where you must pay for any damage to the boat on top of the cost of a new cover. We've talked to many people who tried to save money and ended up paying much more in the long run than if they had purchased a quality cover in the first place. To maximize your investment and minimize your risk, ensure your cover comes with a good warranty. If it is damaged or fails, you will be able to get a new cover at no or minimal cost.
Now that you have all the facts, we want to provide you with some recommendations! These covers have been tested by our team of outdoor experts and come highly recommended.
Best of the Best: WindStorm Elite
There isn't a better boat cover on the market. Customers love the WindStorm Elite for its 100% genuine Sunbrella fabric that is solution-dyed, so it won't ever fade over time. It can be cleaned with bleach and left out in the sun for years and it will maintain its vibrant colors. They are waterproof, breathable and feature both UV and mildew resistance. The semi-custom sizing ensures a perfect fit. They look great and protect even better. Includes a 10-year warranty.
Extreme Heat Climates: WindStorm Cooltech
If you live in Arizona, Florida or the desert, you want a WindStorm CoolTech boat cover. The WindStorm CoolTech boat cover features Aqualon Edge material that is 100% waterproof as well as added Perfecta Marine technology that offers unrivaled heat reduction; deflecting 30% more heat than other fabrics. In addition, the unique venting system includes two large built-in vents that prevents hot air from being trapped inside the cover. Whether you live in an area that rains a lot or is bombarded with high temperatures, the WindStorm CoolTech is the best boat cover choice for extreme weather conditions. Includes an 8-year warranty.
Best Value: WindStorm
WindStorm boat covers are a classic for their great fit, durability and protection features. Customers love the WindStorm because it's made from Marinex boat fabric that is waterproof and solution-dyed for long-lasting color at a low price point. Like higher end covers, WindStorm also features custom UV fabric and excellent breathability to prevent mold and mildew. Your boat and your wallet will thank you.
Trailering: SilverCloud
The SilverCloud series boat cover is trailerable and made with 600D polyester with a Durapel coating technology that repels water and UV rays. SilverCloud may be a low-priced cover, but it still has many of the great qualities of other higher end boat covers including breathable fabric and UV/mildew resistance. The over/under trailering strap kit makes this a good choice for those boat owners who like to cover their boat on the road.