All products are guaranteed to be free of defects at the time of manufacture.

Warranty period lengths vary by product. This is a limited warranty and is pro-rated based on product and material.

The warranty coverage commences on the original date of purchase.

Products are eligible for either one repair or replacement per purchased item.

The warranty is not transferable and is voided if the cover is modified in any way by the purchaser. (examples: cut holes, writing on product, etc.)

Warranties only apply to purchases made and shipped within the continental USA.

The product must be properly installed, secured, maintained, and utilized for the purpose for which it was intended.

Products purchased from unauthorized 3rd Party sellers are not covered by the Eevelle Manufacturer Warranty

During installation and removal, care must be taken not to snag the cover on sharp objects. Pad all sharp corners or sharp objects on your vehicle before covering and use care when tightening straps.
Pro-Rated Warranty
Product approved for warranty claims will receive a credit toward replacement of the same item per the proration schedule below, based on product approved for warranty claim. Original purchase price will be used to calculate item warranty proration. The warranty covers the item purchased, no refunds will be issued for a warranty claim.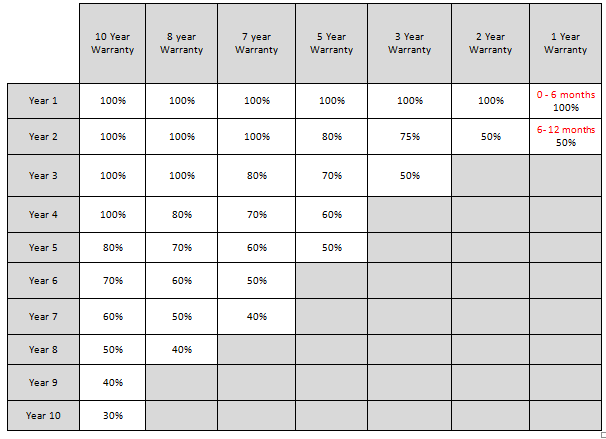 Example:Cover with a 5-Year warranty is purchased for $100. Warranty claim is approved 2 years after the date of purchase. Prorated warranty would cover 80% of the cost for the replacement of the original purchase, or $80. Customer would pay $20 to satisfy the proration amount due.
Damage from high winds, extreme weather or acts of nature

Tears from sharp objects or corners of vehicle, including friction or tension tears- please ensure to properly pad all sharp edges

Leaking, tears, or other damage resulting from water pooling on cover

Damage from customer modifications or abuse

Normal wear, weather soiling, or stains from environmental pollution

Damage caused by animals, rodents, or insects

Damage resulting from failure to use a cover support system or otherwise properly support cover

Material color fading is not covered under warranty

Product purchased from unauthorized 3rd Party Sellers are not covered by Eevelle Manufacturer Warranty.

Product purchased from CloseOut or items sold As Is.
New marine vinyl can give off gases that may cause color transfer between fabrics and vinyl, which can result in a permanent color change to vinyl materials. It is not advisable to use a cover on a boat with a new interior until the vinyl has cured for at least 4 weeks. The same issue can arise from any fabric contact with vinyl, including collapsed bimini tops and fabric seat cushions. Degradation or color transfer from boat cover fabric or bimini top fabric to new marine vinyl is not covered by Eevelle warranty.
This warranty is expressly limited to the repair/replacement of the product at the sole discretion of the manufacturer. In no event shall the seller or manufacturer be liable for any direct, indirect, punitive, incidental, or special consequential damages to property or life whatsoever arising out of or connected with the use or misuse of our products. Warranty policy is subject to change at the discretion of Eevelle.
If you are experiencing an issue with one of our products and believe it may qualify for a warranty claim please contact us at:
1.800.616.0599 or warranty@nationalcovers.com or Click here to fill out manufacturers claim form.


Claim Requirements
In order to initiate a claim you will need the following information:
Proof of Purchase

"Bill To" name on invoice/receipt

Date of Purchase

Product part number and description

Detailed photographs of the warranty damage

Photograph of product tag

Shipping
Please do not send packages to National Covers without prior authorization. National Covers cannot accept any packages freight collect or COD. All packages must be paid for prior to shipping. Returns must be inspected before final decisions are made on possible claims. Note that for verified warranty claims the manufacturer will replace or repair the item at their sole discretion.
For approved warranty claims National Covers will pay inbound freight charges for packages being returned by the customer. The customer will be responsible to pay outbound freight charges for approved warranty replacement products or repaired products.