With so many boats on the market today, from bass boats and pontoons to ski boats and T-Tops, it is important to find the right cover to protect your boat year round. The question is not whether or not you should have a cover for your boat, it is what is the best cover to protect your boat from weather, UV rays, birds and their droppings, dirt, pollen, tree sap, and mildew?
For a modest investment, you can purchase a great quality cover to protect your your boat all year round. Boat covers come in a wide range of quality and price points, which is why it's important to come with knowledge on what makes one boat cover better than the next.
WHAT TYPE OF BOAT COVER IS BEST FOR YOU?
Storage vs. Trailering
Are you looking for a cover to put on your boat just for storage purposes, or do you want to be able to drive with your cover on? This is an important question to ask when purchasing a cover because you would not want to put a boat cover for storage on your boat and drive away just to watch it fly away behind you on the freeway.
Storage covers are designed to fit loosely and are best used for protecting anchored boats docked boats, or boats stored on the trailer.
Trailer covers must have a snug fit and reinforcement in high-wear areas to withstand the rigors of traveling at highway speeds.
National Boat Covers offer trailerable boat covers with an integrated strap system that cinches tightly around the boat and is designed specifically for trailering. Reinforced nose cones and rear corners along with secure-fit reinforced sewn-in elastic cord provide a snug fit so the cover won't blow off.
WHAT ARE THE BEST BOAT COVER FABRICS?
It is vital to buy boat covers that are made with the best quality fabrics because they are required to withstand exposure to water and heat -- both elements that contribute to the breakdown of materials.  
National Boat Covers always use the best materials that have Durapel coating technology with breathable fabric for maximum water repellency so the fabric is both UV and mildew resistant.
Our covers are made from 100% marine grade fabrics that are solution-dyed. Solution-dyed is the crème de la crème of fabric dyeing because when something is solution-dyed it means that the color dye is added during the liquid stage prior to being cooled, and then it is spun into yarn. In essence, the color is part of the fibers produced. This dyeing process ensures that your boat cover won't fade, color bleed, and is stain resistant.
Make sure your boat cover is made from fabrics that won't stretch or shrink. Seams should be double stitched with rot proof water resistant thread to ensure that your boat cover will live a long life.
Boat Cover Fabrics Should Offer:
UV and fade resistance

Mold and mildew resistance

Stain resistance

Breathability

Water-resistance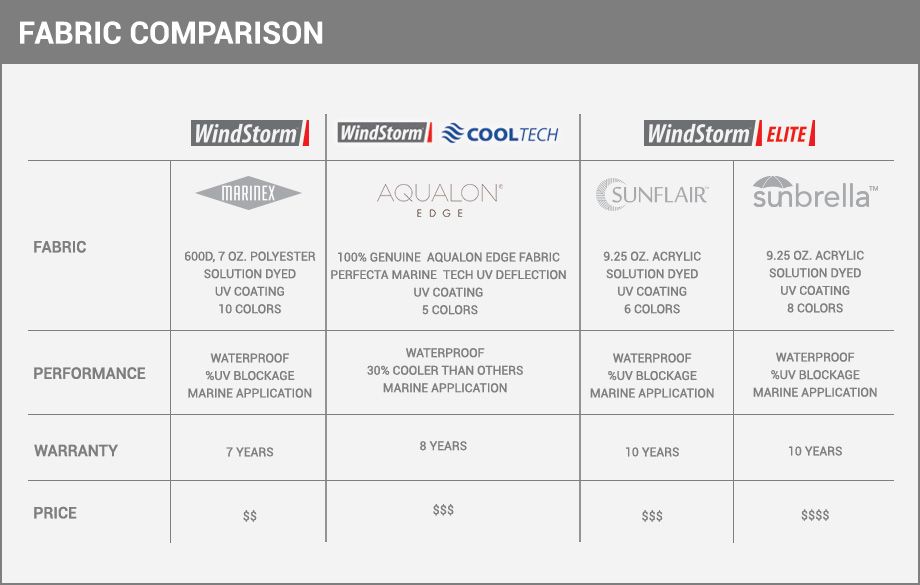 HOW TO MEASURE FOR A BOAT COVER
Make sure to include all the equipment you want to cover in your measurements. For example, if you have an aftermarket boat deck, don't forget to include that in the measurements for your boat cover. If the cover is too big it will sag under the weight of rainwater. Oversized covers also billow in windy conditions, increasing the risk of snagging and tearing on sharp objects.
Do not include the motor when measuring for a boat cover. Your boat's center line length is the straight measurement from bow to stern, not including the motor. Allow for excessive bow rail heights, trolling motors, and transom platforms and ladders. Do not measure up and over the windshield.
If the boat cover fit is too tight, seams and fabric are subject to stretching, which also leads to damage. For safety, it is important to make sure your boat cover comes with the proper tie downs if you are going to tow it.
Our Windstorm boat covers come in 40 different styles to fit any boat, in one-inch increments of length for an outstanding fit.
National Boat Covers has made it simple for customers to find the perfect fit boat cover. Use our easy drop down selector menus to choose the manufacturer, year, and model of your boat and feel confident knowing we did the hard work to make sure you got the perfect fit cover for your boat.