ABOUT WIDE BASS BOATS
The Wide Bass Boat is an extremely popular fishing boat for inland waters. This is the go-to boat for avid bass fisherman that is also used by professionals in televised tournaments.
The wide bass boat sits low in the water and has a wide beam, which creates excellent stability to allow boaters to stand on the deck platforms of the boat. There are typically chair mounts on the deck that also allow fisherman to sit up high on the deck while fishing. The large platforms in the front and rear of the boat allow for a 360 degree casting range.
These boats are typically equipped with electric trolling motors which allow the user to control the boat while standing and fishing on the bow. Wide bass boats are usually used by two people at a time. There is a cockpit with two seats for use when travelling at high speeds, in addition to two decks at the front and back for people to fish from.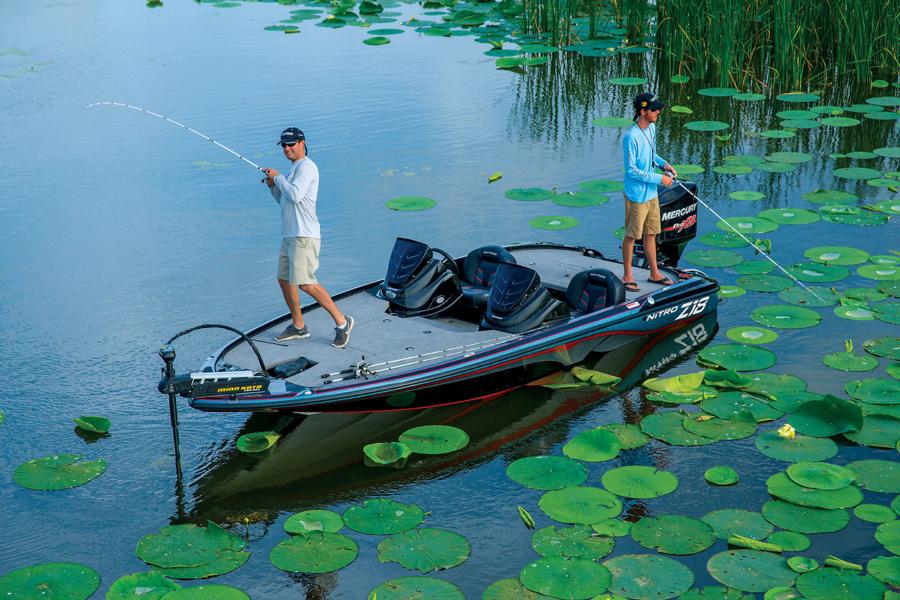 WIDE BASS BOAT FEATURES:
Sits low in the water and has a wide beam for stability

Allows for a wide deck to stand on and fish when the boat is idle

Forward and aft fishing decks allow for optimal fishing range and view

Two seated cock pit only accommodates two people, but  allows the boat to plane quickly and reach very high speeds

Most models also include additional single seats on the deck, allowing fishermen to enjoy a 360 degree range for fishing
---

ABOUT WIDE BASS BOAT COVERS
Don't forget to protect your investment with a quality cover! After you purchase your incredible Wide Bass Boat you're also going to need a cover to protect your investnment from rain and UV rays, so make sure to pick up one of our durable covers today. We carry top rated brands including Windstorm, Sunbrella and SilverCloud.
BASS BOAT WIDE SPECIFICATIONS:
---
Size: 16 ft - 25 ft
---
Propelled by: Outboard Motor
---
Producers: Ranger, Nitro, Triton, Stratos, Legend
---
---

OUT OF STOCK
We're Sorry. The item you have selected is currently Out of Stock. Please make an alternate selection. If you need assistance please call 800-616-0599.