ABOUT DECK BOAT MODIFIED V
This Deck Boat has a spacious design allowing for up to 15 onboard passengers. It has an open cock pit, padded seating along the sides and a tow line at the rear for water sports. The only difference about the Modified V is the open flat deck near the bow of the boat and the two extra pivot chairs on deck.
The extra two chairs in the front of the boat allow fishermen to cast off freely from any angle on deck when the boat is stopped. It's also a great place for passengers to sit if they want to experience a more thrilling ride. Overall this boat is fantastic for water skiers, fishermen or even just cruising around the lake.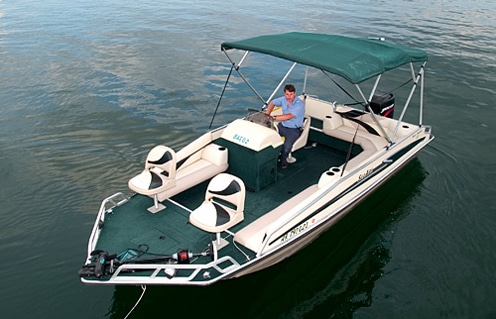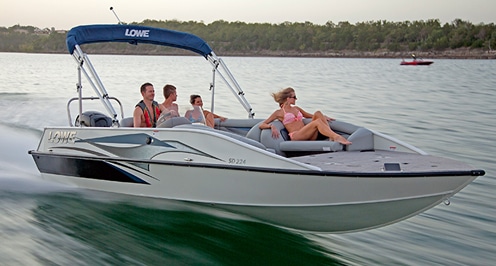 DECK BOAT MODIFIED V FEATURES:
This boat has all the features of the traditional deck boat with a wide spacious deck that gives passengers lots of room to move around

Seats up to 15 onboard passengers

Lined with comfortable seating

The modified V has two extra standing chairs near the front of the bow and a small center console

Usually has some form of T-Top or portable bimini top

Great for fishing and water sports
---

ABOUT DECK BOAT MODIFIED V COVERS
Keep your boat looking sharp for years to come with one of our quality boat covers! Our covers are designed to protect your boat against rain and harsh UV rays, so your Deck Boat doesn't suffer weather damage. Choose from our quality brands and styles including our best seller, WindStorm.
DECK BOAT MODIFIED V SPECIFICATIONS:
---
Size: 18 ft - 28 ft
---
Propelled by: Outboard Engine, Sterndrive and Jet Propulsion
---
Producers: Bryant Boats, Concept Boats, Yamaha Boats
---
---