DECK BOAT WITH WALK THRU WINDSHIELD
ABOUT DECK BOAT WITH WALK THRU WINDSHIELD
The Deck Boat comes in many different variations. The walk thru windshield allows you to separate the boat into two areas for privacy or keep it open so passengers can freely walk around the boat. The windshield also helps to protect against water spray and gives the boat a sportier edge compared to a pontoon boat.
Like other Deck Boats there is optimal seating all along the boat. This fine boat has a capacity for 15 onboard passengers and with the waterskiing option you're sure to have a party on the water! There is also the option to add a tow line to the back of the boat for water skiers as well as a swim platform off the back, making this boat ideal for lovers of water sports!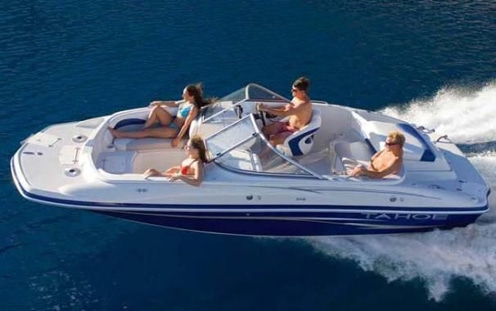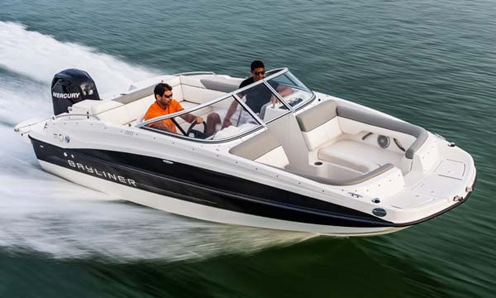 DECK BOAT WITH WALK THRU WINDSHIELD FEATURES:
Same great features of the deck boat with a sportier vibe

Windshield gives the boat a sleeker, sportier look compared to a pontoon

Still has all the great comfort of other deck boats with a seating capacity for 15 onboard passengers

Windshield divides the boat into two sections with seating in the bow and the stern

Platform for swimming and water sports

Great for fishing

Comes with a center or side console

Reaches speeds up to nearly 50 mph
---

ABOUT DECK BOAT WITH WALK THRU WINDSHIELD COVERS
Make sure your boat is protected against weather's harsh elements with one of our high quality covers. We provide the highest quality covers money can buy including our top seller, WindStorm with Sunbrella. Our covers are waterproof, durable and trailerable with up to a 7 year warranty!
DECK BOAT WITH WALK THRU WINDSHIELD SPECIFICATIONS:
---
Size: 18 ft - 28 ft
---
Propelled by: Outboard Motor, Sterndrive, Jet Propulsion
---
Producers: Triumph Boats, Starcraft Marine, Princecraft
---
---