ABOUT DECK BOATS
Deck boats are becoming more popular because they are a great combination of traditional bow riders and larger pontoon boats. The bow rider style boat is well renowned as an excellent all around boat, but the deck boat takes things a step further by creating a large open area in the bow to accommodate more passengers.
The bow area is the main visual cue that separates the deck boat from the bow rider. The beam of the deck boat is carried further forward to the bow area, creating a squared off look to the front of the boat. This is in sharp contrast to the pointed bow of a runabout. The squared bow adds stability to the boat while increasing the seating capacity. Load it up with passengers to take advantage of all that extra space!
The deck boat is also similar to the bow rider in terms of flexibility and performance. It is great at high or low speeds making it ideal for skiers, boarders and tubers.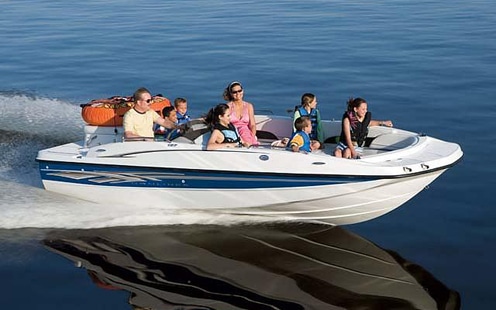 DECK BOAT FEATURES:
Wide open with an abundance of seating

Modern, sleek design

Great for families and parties seating up to 15 people

The boat is easily accessible to passengers from the bow to the stern

Comfortable seating lines the interior of the boat to provide a comfortable ride any where you sit

Great all purpose boat for all day fun - cruising, skiing etc.

Available in outboard and inboard/outboard configurations.
---

ABOUT DECK BOAT WITH LOW RAILS COVERS
Keep your boat looking sharp for years to come with one of our quality boat covers! Our covers are designed to protect your boat against rain and harsh UV rays, so your Deck Boat doesn't suffer from weather damage. Choose from our quality brands and styles including our best seller, WindStorm.
DECK BOAT SPECIFICATIONS:
---
Size: 18 ft - 28 ft
---
Propelled by: Outboard Engine, Sterndrive Engine and Jet Propulsion
---
Producers: Hurricane, SeaRay, FourWinns, Bayliner
---
---