ABOUT T-TOP / HARD TOP BOATS
T-Top fishing boats are one of the most popular ways to glide across the water if you're heading to an inland lake or somewhere offshore. T-Top boats always provide everything you need for your next adventure out on the water! These boats offer the perfect combination of flexibility, open deck space and shade. They can reach lengths up to 35 ft long, allowing for a capacity of up to 10 onboard passengers. T-Top boats can handle some of the worst conditions, allowing you to get to your fishing destination in safety.
Hard Top boats are another very popular choice for fisherman. The enclosed cabin makes it ideal for poor weather conditions, providing immediate shelter from both heat and cold. The protection of the cabin can keep you from cutting your trip short due to too much sun or rain. Be sure to check out some of the top manufacturers like Arima, Luhrs or Tiara to get the best quality boat possible.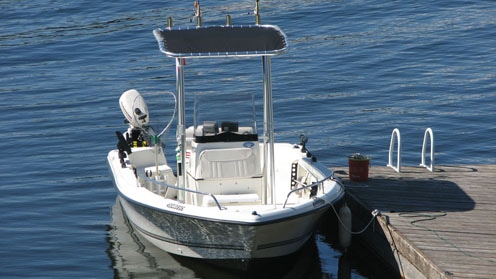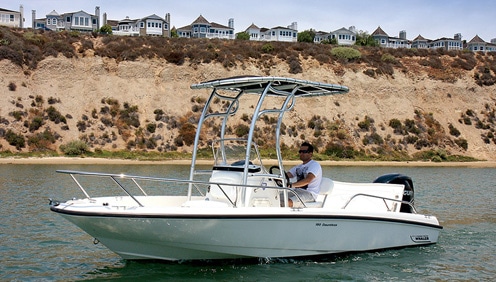 T-TOP / HARD TOP BOAT FEATURES:
The closed cabin featured on hard top boats allows for a cabin like feel on the upper deck

Upper deck feature allows the driver to be protected from sun and rain while still enjoying an afternoon out on the water.

Some models of the hard top boat include a platform off the stern that allows passengers access for swimming

These boats can even reach speeds beyond 40 mph depending on the model

The T-Top allows for the same type of cabin on deck, but provides a more portable solution for easy attachment and removal

The T-Top boat provides plenty of room to move around as well as offering comfortable seating areas in the front and the back
---

ABOUT T-TOP / HARD TOP BOAT COVERS
It's essential that you purchase a high quality cover to protect your boat and extend it's life. Check out some of our top quality boat covers that we offer for T-Tops and Hard Top boats like WindStorm Elite with Sunbrella, one of the leading manufacturers in superior boat materials.
We also offer T-Top covers that cover the T-Top and go down to the deck. This style allows you to completely enclose the area under the top, protecting your instrument panel, navigation and running gear. We are positive you'll be satisfied no matter which style cover you choose. Happy Fishing!
T-TOP / HARD TOP BOAT SPECIFICATIONS:
---
Size: 20 ft - 35 ft
---
Propelled by: Outboard Motor & Sterndrive
---
Producers: Tiara, Arima, Luhrs
---
---

OUT OF STOCK
We're Sorry. The item you have selected is currently Out of Stock. Please make an alternate selection. If you need assistance please call 800-616-0599.