ACHILLES BOAT COVERS FROM NATIONAL BOAT COVERS
National Boat Covers offers the widest variety of high-quality boat covers for Tracker Marine Boats. Choose the perfect fit boat cover for your exact model and size Tracker Marine Boat using our drop down selector menu. Our boat covers are made with waterproof heavy-duty Marine grade fabrics such as Sunbrella, Sunflair and Marinex. These are the best semi-custom fit covers on the market today. Call our USA based cover experts for assistance. 800.616.0599.

Find you ACHILLES INFLATABLE CRAFT boat cover here:
ACHILLES INFLATABLE CRAFT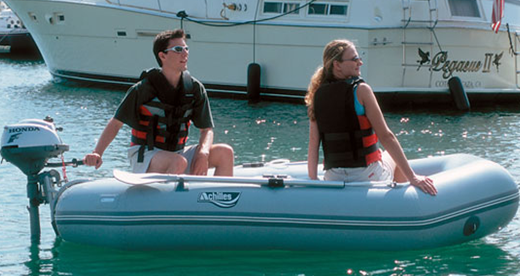 ABOUT ACHILLES INFLATABLE CRAFT BOATS
A Japanese company selling inflatable boats since 1961, Achilles Inflatable Craft arrived in the United States in 1973. Exclusively selling in the inflatable boat market, the boat company offers watercrafts suited as dinghies and even for river rafting. National Marine Manufacturers Association certified vessels; Achilles crafts have an excellent reputation for durability. Before turning to boating, the Achilles Inflatable Craft business was founded as a producer of raincoats.
ACHILLES INFLATABLE BOAT FACTS
The Marine Division of Achilles USA, Inc. is unique in that we sell the only truly "branded" product of our company, Achilles Inflatable Boats. The boats that we manufacture in Japan, and to a lesser degree in the very recent past, in China, are the only finished products that actually are sold as an Achilles brand. For this reason, it is a very important part of the companies' history, and it offers a great sense of pride to our parent company in Japan as well.
Popular ACHILLES INFLATABLE CRAFT boat models:
LT-2
HB-240LX
LEX-77
LS-2RV
LSI-230
HB-280DX
HB-280LX
LEX-88
LS-4RV
LSI-260
LT-4
FRB-104
HB-315DX
HB-315LX
LEX-96
LSI-290
LSI-310
LSR-290
LSR-310
SPD-290
SPD-310
LSI-335
SPD-335
FRB-124
HB-350DX
HB-350LX
LSI-365
SG-124
SGX-122
SPD-365
SGX-132
SG-140
SU-14
SG-156
SU-16
SU-18
LSI-77
HB-275
LSI-88
HB-310
LSI-104
LSI-96
LSR-104
LSR-96
SPD-104
SPD-96
HB-340
LSI-112
SPD-112
LSI-122
HB-385
LS-2RU
LS-4RU
LEXI-96
SE-121
SE-131
SPD-102
SPD-108
HB-330
SE-15
LEX-235
LEX-260
LT-3
HB-90 LG
HB-90 WH
LEX-290
LSA-4
LSR-4
HB-100 LG
HB-100 WH
LEX-320
SPD-4AD
SPD-4AD WH
HB-110 WH
HB-110S
SG-110
SPD-5AD
HB-124 LG
HB-124S
HB-124US
SE-12
SE-13
HB-140 LG
HB-140 WH
SG-176
LS-4
GT-10
LS-5
GT-11
HB-110S WH
HB-124S WH
S-2
FL-3
HB-90
LSI-4
LX-290
FL-4
HB-110
SE-11
HB-124 WH
SD-124
SE-12 LTD
SD-140
SG-140 LTD
SD-156
LS-2
LSR-2
SPD-2AD
SPD-2FL
LS-4GX
LT-40X
HB-100
SPD-4FL
RC-110
RS-110
RV-110
SPD-5FL
RC-126
RS-126
RV-126
SK-124
SD-130
HB-140
RC-140
RS-140
RV-140
SK-140
RS-156
RV-156
SH-156
SK-156
SH-170
RV-180
LT-3DX
LT-4DX
SPD-2A
SE-110
SQ-120
SH-140
DT-2
LT-2DX
DT-4
ST-4
SPD-10GT
SPD-11GT
SR-110
SD-124AL
SR-124
SR-124AL
SE-130
SD-140AL
SR-140
SR-140AL
SR-156AL
SD-156AL
SHD-156
SHR-156
SR-156
SHD-170
SHR-170
ST-2
LS-4EX
SPD-4DX
LT-2D
ST-5
SE-11S
SE-12S
SE-130S
HB-126
HB-126 FG W/SS
LT-2A
LT-4D
SR-108
SD-124FG
SR-124FG
SR-132
SD-140FG
SR-140FG
SD-156FG
SR-156FG