ABOUT ADVANTAGE BOATS
Building high performance watercrafts, Advantage Boats situated in Arizona are very passionate about constructing eye-catching vessels. Offering conventional styled performance boats, some Advantage boats styles include a deck and even a radical pontoon-like vessel allowing group outings on the water. Even offshore fishing can be performed in Advantage boats.

Find your ADVANTAGE BOAT cover below: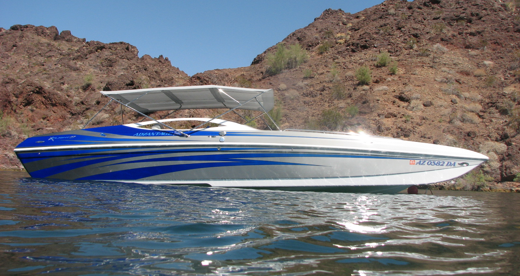 Advantage Boats Fact::
For nearly a quarter of a century, Advantage Boats has placed the highest priority on building custom sportboats with exceptional quality, performance, and value for maximum customer satisfaction. The company is dedicated to being the industry leader in performance sportboats, creating innovative and technologically advanced new models with cutting-edge graphics and colors. The 40,000 square foot manufacturing facility in Lake Havasu City, Arizona, allows for the opportunity to better serve customers with specialized attention and consultation. Advantage builds every boat to order.
Popular Advantage Boat Models:
SR
SR BOWRIDER
CITATION
CITATION BOWRIDER
PARTY CAT MX
SPORT CAT
PARTY CAT LX
VICTORY
VICTORY BOWRIDER
PARTY CAT XL
OFFSHORE
OFFSHORE BOWRIDER
VICTORY BOWRIDER/OS
VICTORY/OS
OFFSHORE/OS
SKI SPORT
SKI SPORT BOWRIDER
BANSHEE TUNNEL
SR CLOSED BOW
CITATION CA
PARTY CAT
BOWRIDER
TUNNEL RUNNER
WARRIOR
WARRIOR BOWRIDER
PARTY CAT SPORT
CELEBRITY
CELEBRITY BOWRIDER
PARTY CAT/SD
CITATION OFFSHORE
CELEBRITY OFFSHORE
ADULT TOY
SKI CLASSIC
SPORT CRUISER
SPORT CRUISER BOWRIDER
CLASSIC B/R
SPORT CRUISER B/R

20.5 CLASSIC
20.5 CLASSIC BOWRIDER
21 SR
21 SR BOWRIDER
22 CITATION
22 CITATION BOWRIDER
22 PARTY CAT
22 SPORT CAT
25 CITATION
25 CITATION BOWRIDER
26 PARTY CAT
27 PARTY CAT
27 VICTORY
27 VICTORY BOWRIDER
27 X-FLIGHT
28 PARTY CAT
28 SPORT CAT
28 SPORT CAT BOWRIDER
28 VICTORY
28 VICTORY BOWRIDER
29 X-FLIGHT
29 X-FLIGHT MID CABIN
30 VICTORY
30 VICTORY BOWRIDER
32 VICTORY
32 VICTORY BOWRIDER
34 OFFSHORE
34 OFFSHORE BOWRIDER
34 PARTY CAT
34 X-FLIGHT
40 POKER RUN
BANSHEE
22 PARTY CAT/DB
26 PARTY CAT/DB
28 PARTY CAT/DB
CLASSIC
CLASSIC BOWRIDER