ABOUT ALLMAND BOATS
Established by John Allmand in 1965, Allmand Boats has an established history building motor boats as well as sailing vessels. Allmand Boats assembled a range of recreational watercrafts including speedy runabouts and cabin cruisers. Shutting down in 1985, new life was delivered to Allmand Boats in 2002 when the founder's son reopened the company.

Find your ALLMAND boat cover below: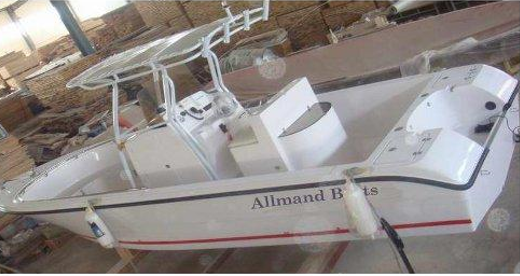 Allmand Boat Facts:
By 1990, all original founding family members had long since retired from the business. The office and executive staff needed to manage the large operation also retired. The 60,000 sf factory and assets were sold off. The son of founder John Allmand, continued building custom boats in a 15,000 s.f. shop in South Dade. The new boats were designed with fuel economy and affordability in mind. In 1996 the new design 36' high speed offshore center console was introduced at the Miami Beach Boat Show. The Allmand New Boat model was named the 36 foot Samurai. The model was an instant success, ordered by anglers, and scuba divers wherever there was the need to navigate long distances with 4 to 6 foot seas safely at high speeds. Sold from Nags Head to St Maarten.
Popular Allmand Boat Models:
ALLMAND 256 A
ALLMAND 256 AC
ALLMAND 256
FREEDOM 26/EX
FREEDOM 26/SF
RANGER 28/EX
RANGER 28/SF
SEDAN 34
SPORTFISHER 34
CENTER CONSOLE
CITATION
CITATION HT
TICONDEROGA
WEEKENDER
OPEN CUDDY 26
CITATION C
FISHERMAN
STINGER
ALLMAND
JUMPER
CONVERTIBLE
ALMAND STINGER
CITATION CUSTOM
CITATION HARDTOP CUSTOM
TICONDEROGA CUSTOM
ALLMAND 25
ALLMAND HT 25