ABOUT ALOHA PONTOON BOATS
Building high-end pontoon boats since 1960, Aloha Pontoon Boats is one of the longer-running companies in the sale of such pleasure crafts. Featuring all-welded aluminum construction, a variety of features can be equipped throughout the Aloha Pontoon Boats product line. Aloha Pontoon Boats prides itself with building stable, long-lasting vessels admitting, "we would rather explain the price, than apologize for the quality."

Find your ALOHA PONTOON boat cover below: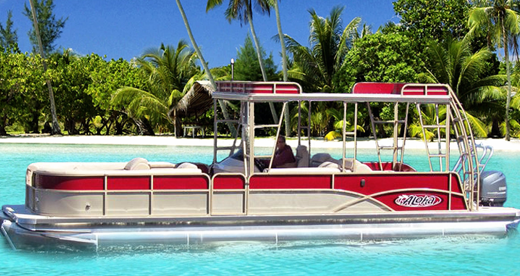 Aloha Pontoon Facts:
Since 1960, Aloha Pontoons have lead the pontoon industry with many important innovations. The company has earned a reputation for "design uniqueness." They were the first company to build an upper sundeck and first to build a sun cushion enclosure over the outboard engine and fuel compartments, a huge innovation at the time.
Popular Aloha Pontoon Boat Models:
\TROPICAL 220 FISH N PARTY TRPL
TROPICAL 250 26" PONTOONS
TROPICAL 250 SUNDECK 26" PONT
TROPICAL 250 SUNDECK TRPL TNNL
TROPICAL 250 TRIPLE TUNNEL
TROPICAL 290 SUNDECK 26" PONT
TROPICAL 290 SUNDECK TRPL TNNL
TROPICAL SILVER STAR 180
TROPICAL SILVER STAR 210
TROPICAL MS 240
TROPICAL SILVER STAR 240
TROPICAL 210 FAMILY TRPL TNNL
TROPICAL TS 178 TRIPLE TUNNEL
TROPICAL TS 180 FISH N PARTY
TROPICAL TS 210 FAMILY
TROPICAL TS 210 FAMILY TRPL TNNL
TROPICAL TS 210 FISH N PARTY
TROPICAL PS 220
TROPICAL PS 220 TRIPLE TUNNEL
SILVER STAR 210
MS 240
SILVER STAR 240
PARADISE 220
PARADISE 220 TRIPLE TUNNEL
PARADISE 250
PARADISE 250 SUNDECK
PARADISE 250 SUNDECK TRPL TNNL
PARADISE 250 TRIPLE TUNNEL
PARADISE 290
PARADISE 290 SUNDECK
PARADISE 290 SUNDECK TRPL TNNL
PARADISE 290 TRIPLE TUNNEL
PARADISE X-32
TROPICAL 178 TRIPLE TUNNEL
TROPICAL 180 FISH N PARTY
TROPICAL 210 FAMILY
TROPICAL 210 FISH N PARTY
TROPICAL 210 FMLY TRPL TNNL