ALUMAWELD BOAT COVERS FROM NATIONAL BOAT COVERS
National Boat Covers offers the widest variety of high-quality boat covers for Alumaweld Boats. Choose the perfect fit boat cover for your exact model and size Alumaweld Boat using our drop down selector menu. Our boat covers are made with waterproof heavy-duty marine grade fabrics such as Sunbrella, Sunflair, and Marinex. These are the best semi-custom fit covers on the market today.
Call our USA based cover experts for assistance. 800.616.0599.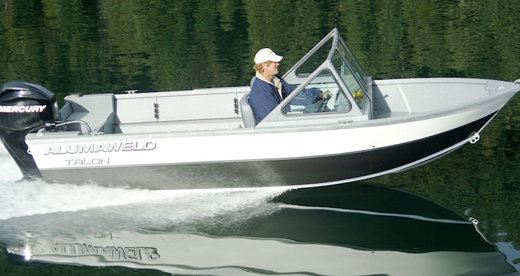 ABOUT ALUMAWELD BOATS
Starting their business through the sale of aluminum-hulled drift fishing boats in 1971, Alumaweld's product line has grown to include flat bottom and sport boats. Alumaweld has perfected their manufacturing technique over the years with precision cut components and a multi-layered painting process. Headquartered and built in White City, Oregon, Alumaweld boasts a broad dealership reach.
ALUMAWELD BOAT FACTS 
Since 1971, Alumaweld has defined how heavy gauge welded aluminum boats should be built and how they should perform. Every model has been thoroughly and carefully designed to deliver an outstanding fishing and boating experience. Small details like the width of a tackle tray have been considered. There are features only found on Alumaweld Boats, like proprietary bottom strakes that enhance the running and fishing performance of these all-season sport boats. Exclusive extrusions that are the product of visionary engineers whose designs produce exceptionally strong yet incredibly nimble boats that handle like no other in their class, and dozens of other unique elements that are only found in an Alumaweld. When you purchase an Alumaweld, you're buying experience, integrity, performance and commitment that is unmatched. That's why Alumaweld has earned the distinction of building...serious fishing boats for serious fishing pleasure. Alumaweld Boats is the provider for premium welded aluminum fishing boats in North America. Based in White City, Oregon, Alumaweld has dealers all of over the country, including Washington, Oregon, Idaho, Minnesota, and Alaska. If you are looking for a list of our dealers, try using our Dealer Locator.
Popular Alumaweld Boat Models:
DRIFT BOAT GUIDE CLASSIC
DRIFT BOAT PRO GUIDE
TALON 15
TALON 17
TALON BLACK HAWK
SUPER VEE 18 LT
FREE DRIFTER 17
FREE DRIFTER 19
SUPER VEE 17 LS
SUPER VEE 19 LS
SUPER VEE 19 LS 14
SUPER VEE 15 LS
INTRUDER FORWARD HELM 18
SUPER VEE 18
SUPER VEE 20
SUPER VEE 22
TALON OASIS
TALON MIRAGE
SUPER VEE 16 LT
SUPER VEE OASIS
SUPER VEE MIRAGE
SUPER VEE EMMONAK
DRIFT BOAT ADVENTURER CLASSIC
SKIFF
BLACK HAWK 180
COLUMBIA
BLACK HAWK 202
PACIFIC
FORMULA VEE FORWARD HELM
FREE DRIFTER 18
FREE DRIFTER 20
INTRUDER FORWARD HELM
STRYKER SPORT
STRYKER SPORT V6
SUPER VEE 20 LT
SUPER VEE 21 PRO
SUPER VEE 23 PRO
SUPER VEE 25 PRO
TALON 16
TALON 18
TALON BLACK HAWK 180
TALON BLACK HAWK 202
TALON PACIFIC
STRYKER SPORT SD
SUPER VEE 21 PRO 6
SUPER VEE 23 PRO 6
SUPER VEE 19 PRO
SUPER VEE ALASKAN KENAI
SUPER VEE MIRAGE SLE
FORMULA VEE OPEN/CC
OFFSHORE HARDTOP
STRYKER OPEN
FORMULA VEE OPEN BOW
OFFSHORE CUDDY HARDTOP-SINGLE
OFFSHORE CUDDY HARDTOP-DUAL
OFFSHORE PILOTHOUSE
OFFSHORE PILOTHOUSE-DUAL
STRYKER FORWARD HELM
FLAT BOTTOM SLED
OFFSHORE HARDTOP-SINGLE
SUPER VEE 17 PRO
SEA SKIFF 16
SEA SKIFF 18
SEA SKIFF 20
SUPER VEE A.K. SPECIAL
DRIFT BOAT ADVENTURER 15-50
DRIFT BOAT GUIDE 15-50
DRIFT BOAT ADVENTURER CLASSIC 16-54
DRIFT BOAT ALUMADRIFTER 16-48