ABOUT ALUMINUM CHAMBERED BOATS
Aluminum Chambered Boats started in 2000 assembling a range of aluminum hull yachts suited for handling rather extreme conditions. Building tough and flexible watercraft, the company heavily caters to the United States military, winning several supply contracts. Toppled due to economic problems and debt, Aluminum Chambered Boats ended production in late 2010.

Find your ALUMINUM CHAMBERED boat cover below: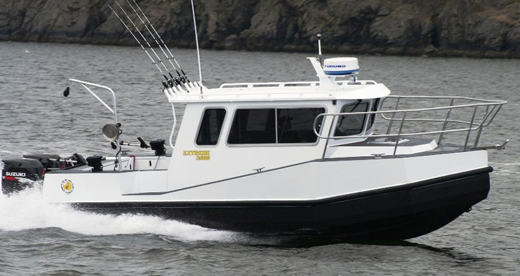 Aluminum Chambered Facts:
Aluminum Chambered Boats, Inc. manufactures aluminum boats for government, commercial, and recreational markets. It also provides accessories, including clothing. The company was incorporated in 2000 and is based in Bellingham, Washington.
Popular Aluminum Chambered Boat Models:
25 EXTREME SPORTFISH
25 PRO SPORTFISH
25 RESCUE PRO/CV
25 SPORT FISHERMAN
25 WAVE RUNNER/CD
28 EXPEDITION/SF
28 EXPLORER/SF
28 CENTER CONSOLE
28 DIVE RESCUE/CV
28 EXTREME SPORTFISH
28 PRO SPORTFISH
28 RESCUE PRO/CV
28 SPORT FISHERMAN
30 EXPEDITION/SF
30 EXPLORER/SF
30 CENTER CONSOLE
30 DIVE RESCUE/CV
30 EXTREME SPORTFISH
30 PRO SPORTFISH
30 RESCUE PRO/CV
30 SPORT FISHERMAN
32X10 EXPEDITION/SF
32X10 EXPLORER/SF
32X10 CENTER CONSOLE
EXPLORER 2300/SP
EXPEDITION 2600/SP
EXTREME 2600/SF
EXPEDITION 2900/SP
EXTREME 2900/SF
32' BOWLOADER
34' BOWLOADER
EXPEDITION 3200/SP
EXTREME 3200/SP
EXPEDITION 3400/FR
EXPEDITION 3400/SP
EXTREME 3400/FR
EXTREME 3400/SP
EXTREME 3200/SF
EXTREME 3400/SF
EXPLORER 2600/SP
EXPLORER 2900/SP
EXPEDITION 3100/SP
EXPLORER 3100/SP
EXTREME 3100/SF
EXPEDITION 3300/SP
EXPLORER 3300/SP
EXTREME 3300/SF
25 CENTER CONSOLE
32X10 EXTREME SPORTFISH
32X10 RESCUE PRO/CV
32X10 SPORT FISHERMAN
23 CENTER CONSOLE
23 DIVE RESCUE/CV
23 EXTREME SPORTFISH
23 PRO SPORTFISH
23 RESCUE PRO/CV
23 SPORT FISHERMAN
23 WAVE RUNNER/CD
26 CENTER CONSOLE
26 DIVE RESCUE/CV
26 EXPEDITION/SF
26 EXPLORER/SF
26 EXTREME SPORTFISH
26 PRO SPORTFISH
26 RESCUE PRO/CV
26 SPORT FISHERMAN
29 CENTER CONSOLE
29 DIVE RESCUE/CV
29 EXPEDITION/SF
29 EXPLORER/SF
29 EXTREME SPORTFISH
29 PRO SPORTFISH