ABOUT ALUMINUM CRUISERS/MARINETTE
Building a range of aluminum hull vessels, Aluminum Cruiser's Marinette boat line was launched in 1976 as a top-selling division. Providing flexibility as either a fishing vessel or even a small yacht, Marinette brought the endurance and performance characteristics of aluminum boat construction to American recreational inboard motor boating. The Marinette 32 model recorded sales of over 1,800 units up until the brand's discontinuation in 1991.

Find your ALUMINUM CRUISERS/MARINETTE boat cover below:
ALUMINUM CRUISERS/MARINETTE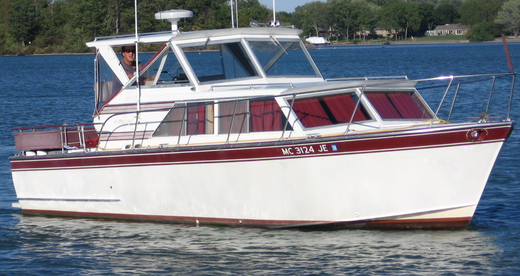 Aluminum Cruisers/Marinette Facts:
Marinette yachts were a line of motor yachts built by Aluminum Cruisers Inc in Standiford Field, Kentucky from 1954 to 1991. Manufacturing was suspended due to recession and the luxury tax. The manufacturing rights were purchased by the individual John Althouse with the intention of restarting production. No new boats are currently manufactured, only some boats are being built on a custom basis. My name is Mike and I worked at Aluminum Cruisers as a welder in 1980 and was a fabrication supervisor when the plant closed forever in 1991. Houseboat production ceased there in the late 70's. Boating Corp. of America bought the Marinette name and most of their equipment in the early 90's. 
Popular Aluminum Cruisers/Marinette Boat Models:
MARINETTE EXPRESS
MARINETTE FISHERMAN
MARINETTE GRAN SPORTSMAN
MARINETTE SEDAN
MARINETTE CONVERTIBLE
MARINETTE DOUBLE CABIN
MARINETTE SPORTSMAN
MARQUIS DOUBLE CABIN
MARQUIS MOTOR YACHT
MARINETTE/DM
MARINETTE/DC
MARINETTE/FE