ABOUT AMERICAN SKIER BOATS
Kenneth Elkind, a former powerboat racer, created iconic ski boats under the American Skier name. Started in 1975, American Skier watercrafts were first built in Florida, but later production moved to Texas, and finally Louisiana. Through the years of American Skier, the Volante began a popular product offering. Production of American Skier boats wrapped for the 2004 model year with the company name adapting solely to the Elan Boats brand.

Find your AMERICAN SKIER boat cover below: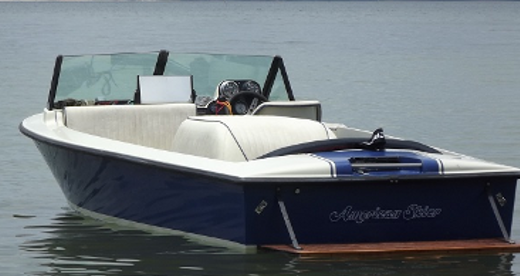 American Skier Facts:
American Skier boats (not to be confused with Correct Crafts American Skier) was a tournament boat company founded by Kenneth B. Elkind of North Miami Beach, Florida, USA, in 1975. Mr. Elkind, after retiring from the offshore racing circuits, became interested in the water skiing business. In the early 1980s American Skier became one of the first tournament boat companies to be approved for competition by the American Water Ski Association. The first 18' Skiers came out as 1976 models from a shop in Opa Locka Florida. In the early 1990s, WESMAR took over ownership. They built the 1991-95 models in Ocoee, Florida, moved it to Cape Coral, Florida, and moved it again, this time to Giddings, Texas. Ron Tanis purchased the company in 1995 and moved the molds from Giddings to Winnsboro, Louisiana. Ron Tanis sold the company to the politician Jay Blossman, and the former professional water skier Ben Favret The last "true" American Skiers were built in early 2002.
American Skier Boat Models:
5CF FISH AMERICAN
170 FISH AMERICAN CC
186 SE AMERICAN SKIER
SPORT ADVANCE
SPORT LEGEND
200 FISH AMERICAN CC
200 SEC AMERICAN SKIER
SPORT VOLANTE LTD
SPORT VOLANTE
215 SE AMERICAN SKIER
SPORT EAGLE
SPORT COMANCHE
SPORT EAGLE II
VOLANTE BR
VOLANTE LTD BR
EAGLE BR
COMANCHE
EAGLE II B/R
EAGLE II
CARRERA
BAREFOOT SKIER
AMERICAN SKIER ADVANCE
AMERICAN SKIER CLASSIC/SK
AMERICAN SKIER COMP/SK
AMERICAN SKIER PRO/SK
CLASSIC SKIER/SK
LAZER/SK
TBX-PRO/SK
TBX/SK
LAZ-AIR/SK
AIR VOLANTE/SK
VOLANTE/SK
EAGLE V/SK
TBX
VOLANTE
ADVANCE II
ADVANCE SS
LEGEND
VOLANTE LTD
VOLANTE TOURNEY
EAGLE LTD
ADVANCE
EAGLE
150BR SE AM SKIER