ABOUT AVON INFLATABLE BOATS
Since 1959, Avon Inflatable has built tender and lift rift boats acting to support larger vessels. Avon Inflatable is located in South Wales and has the proven recognition of over 200,000 boats sold. Hand-built products, the boats of Avon Inflatable are designed to meet standards set by the United Kingdom's Royal National Lifeboat Institution as well as the United States Coast Guard. In one incident, one Avon Inflatable lift rift facilitated a success rescue after 117 days at sea.

Find your AVON INFLATABLE boat cover below: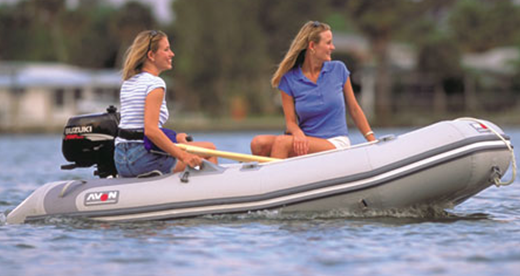 Avon Inflatable Facts:
AVON has an enviable reputation among the most discerning of boating enthusiasts, boat builders, and professional users world-wide. More than 50 years of experience has allowed them to become the worldwide specialist in Jet Rib Tenders. Attention to detail and quality standards ensure that AVON maintains its premier position in world markets. Our global network ensures we are well equipped to meet the needs of our global customer base and deliver a first class product and service support wherever it is needed. AVON is offering a wealth of experience and expertise that is difficult to match.
Popular Action Craft Boat Models:
ADVENTURE 400 OPEN
ADVENTURE 450
ADVENTURE 580
ADVENTURE 620
ADVENTURE 720
DINGHY REDSTART
RIB LITE 315
ROVER 310-RIB
ADVENTURE 560
SEASPORT SE 320 JOCKEY-JET
SEASPORT SE 400-JET
SEASPORT SE 490 DLX
SEASPORT SE 580 DLX
ADVENTURE 720 OPEN
ROLL AWAY 280
ROLL AWAY 310
ROLL AWAY 340
ROVER 220-RIB
ROVER 260-COMPACT
SEASPORT SE 320 DLX
ADVENTURE 410 OPEN
ADVENTURE 450 OPEN
ADVENTURE 580 OPEN
ADVENTURE 620 OPEN
DINGHY RESTART
DINGHY REDCREST
RIB LITE 260
RIB LITE 310
ROVER 260-AIR DECK
ROVER 280-AIR DECK
ROVER 280-RIB
ROVER 310-AIR DECK
ROVER 315-RIB
ROVER 340-AIR DECK
ROVER 340-RIB
SEASPORT SE 320-JET
SEASPORT SE 360 DLX
SEASPORT SE 400 DLX
SEASPORT SE 430-JET
ADVENTURE 400
ROVER 280-SOLID DECK
ROVER 310-SOLID DECK
ROVER 340-SOLID DECK
ADVENTURE A400
ADVENTURE A400 OPEN
ADVENTURE A450
ADVENTURE A450 OPEN
ADVENTURE A560
ADVENTURE A620
ROVER R250-AIR DECK
ROVER R250-SLATTED DECK
ROVER R280-AIR DECK
ROVER R280-RIB
ROVER R280-SOLID DECK
ROVER R310-AIR DECK
ROVER R310-RIB
ROVER R310-SOLID DECK
ROVER R340-AIR DECK
ROVER R340-RIB
ROVER R340-SOLID DECK