BLUEWATER YACHTS BOAT COVERS
ABOUT BLUEWATER YACHTS BOATS
Operating since the 1950s as part of Boatel Company, the division building motorized yachts was given the Bluewater name in the late 1970s. Building luxury vessels ranging up to 70 feet long, Bluewater Yachts are based in Mora, Minnesota. With the slogan "Different by Design," engineering involved in the watercraft produced by Bluewater Yachts creates a desirable, stream-lined profile. Bluewater Yachts is also recognized for several firsts in the yacht industry.

Find your BLUEWATER YACHTS boat cover below: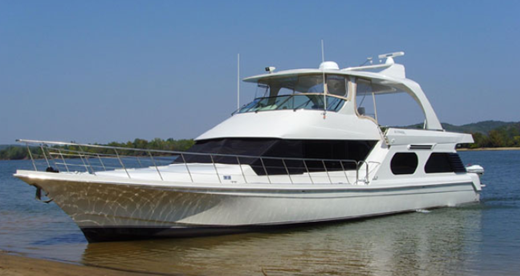 Popular Bluewater Yachts Boat Models:
BLUEWATER/MY
BLUEWATER/TC
BLUEWATER/SS
BLUEWATER 39/SP
Bluewater Yachts Facts:
For over fifty five years, a single goal has steered our company: To build one of the most stable luxury yachts on big water. It's evident in everything we do, from our founder's vision to the beautiful details of our craftsmanship. Bluewater is located in Mora, Minnesota. And with good reason. This small, Midwestern community embraces the long-lost ideal of this old-world attitude with the cutting edge technology needed to build each Bluewater yacht. When you choose a Bluewater, you're joining a select group of discerning owners. People who appreciate our sleek, distinctive design. Who seek to express themselves in a unique way. And who want to celebrate the successes of their lives. You're actually joining the Bluewater family. It's not a cliché. It's the way we do business.