BULLET BOATS BOAT COVERS
ABOUT BULLET BOATS
Producing high-performance bass fishing vessels, Bullet Boats began catering to the angler crowd in 1980. Priding themselves in building watercraft, strong but lightweight materials are applied in construction of Bullet Boats. Bullet Boats attempts to maintain a high level of customer interaction and service through a smaller but dedicated dealership network. Rigging, electronics and engine are some details an owner can specify on Bullet Boats products.

Find your BULLET BOATS boat cover below: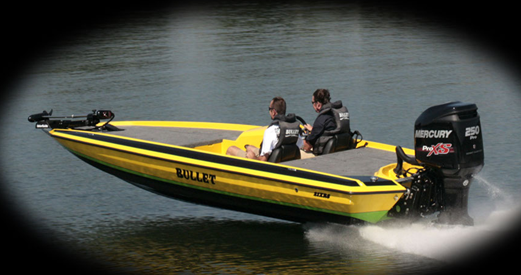 Popular Bullet Boats Boat Models:
| | |
| --- | --- |
| 20XD | 17CC |
| 21XD | 17VEE |
| 21XDC | 19VEE |
| 20XDC | 21VEE |
| 20XF | 20VEE |
| 21XRD | 20CC |
| 21RDC | 20DC |
| 21SS | 20XRD |
Bullet Boats Facts:
In the fall of 1980, Bullet Boats, inc. was founded by a small group of people who were craftsmen in the design, use and construction of tournament bass boats. Quietly and without fanfare, Bullet Boats was established with a commitment to innovation in design. Frankly, we cannot understand how someone could be proud of a product which they had not developed themselves. Craftsmanship, quality and integrity are words that mean everything to each person involved in the design and construction of a Bullet Boat. "A quality boat that provides performance and design in all areas and creates a sense of pride in ownership" is the theme that has guided the company from its very first days to its premier position today in the bass boat industry.