CANYON BAY BOATS BOAT COVERS
ABOUT CANYON BAY BOATS
Canyon Bay Boats produces a line of center console fiberglass boats in Lakeland, Florida. Built to handle even choppy, rough waters, Canyon Bay Boats involve many design features to make travel in shore or the distance off shore safe. Usage of honeycomb core materials, stainless steel and Canyon Bay Boat's Squish Mold Process insures sturdy overall construction.

Find your CANYON BAY BOATS boat cover below: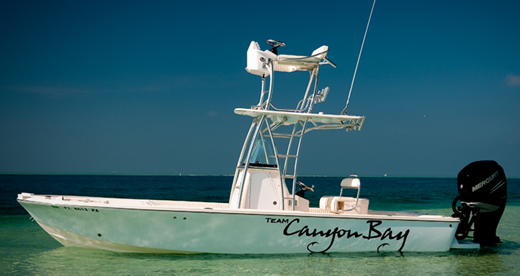 Popular Canyon Bay Boats Boat Models:
1850/LT
2150/FO
2165/FO
2270/CC
2375 EH/CC
2375/CC
2400/CC
2470/CC
2475 EH/CC
2475/CC
PHAZ I PARTY DECK BOAT
PHAZ II PARTY DECK BOAT
SILHOUETTE 7.2
SILHOUETTE 8.4
Canyon Bay Boats
For the first time ever, one exceptionally engineered line of boats has it all. Designed to be the ultimate fishing platform, the Canyon Bay Series combines shallow water draft with Deep-V stability for an unmatched fishing and boating experience. So, whether they're biting minutes away in calm shallow water, or miles across the chop, you're on the fish fast, with a ride so smooth and stable it makes getting there half the fun.