CAROLINA CAT BOAT COVERS
ABOUT CAROLINA CAT BOATS
A Tarboro, North Carolina boat manufacturer, Carolina Cat specializes in the creation of offshore-capable catamaran-hulled watercraft. Selling side console, center console and dual console fiberglass boats, Carolina Cat uses hulls configured to provide fast speeds with minimal engine power. Ranging from 18 to 23 feet in length, boats built by Carolina Cat can seat up to 10 passengers for cruising or fishing trips. New Carolina Cat products are supported by a seven-year limited structural hull warranty.

Find your CAROLINA CAT boat cover below: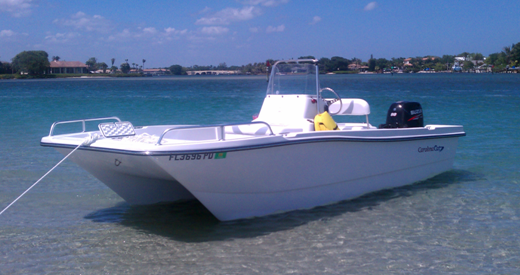 Popular Carolina Cat Boat Models:
Carolina Cat Facts:
The incredible ride of a Carolina Cat 18 or 23-footer will make you think you are in a much larger boat. So, if you want to venture offshore and still want smaller boat convenience and price tag, there's no boat like a Carolina Cat. Carolina Cat hull designs are the secret to their super smooth ride. Whether you are crossing the sound to a barrier island or heading offshore where the big ones bite, your Carolina Cat parts the waves like no boats in its class. Easy to trailer. Fun to run. The draft of a small skiff. Carolina Cats are all-composite, tough offshore/inshore catamarans. They are a joy to run in the short chop or the larger offshore swell. But don't take our word for it; take a demo ride at you local Carolina Cat dealership.