ABOUT CENTURION BOATS
Producing a well-received selection of speedboats, Centurion Boats possess layered uni-body hulls featuring technology including an Integrated Composite System and a reverse shoebox design. Centurion crafts are ideally suited for water activities using skiing, wake boarding and even parasailing. High technology as well as a supportive dealership network in the United States and Canada are also present with Centurion.

Find your CENTURION boat cover below: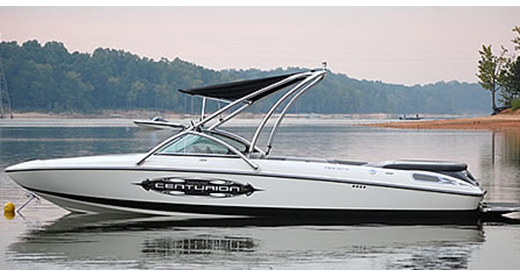 Centurion Facts:
Engineered from the ground up to provide the biggest, longest, hardest waves with the greatest amount of adjustability, Centurion makes boats suited for professional wake surfing. Much like its predecessor, racing inspired design is evident with a plush mix of luxury as the FX44 has become the flagship wakeboard and wake surfing boat for Centurion. Sleek lines with a powerful stance highlighting the loading ramp is only shadowed by the huge hammerhead bow and spacious cabin. Quickfill ballast, carbon fiber scoops, and the PCM 450hp are standard with the ability to outfit in the professional configuration with the CATS system, RAMFILL ballast and so much more. The most advanced Enzo to date for Centurion.
Popular Centurion Boat Models:
CHIEFTAIN
CONCOURSE
CONCOURSE 22
CONCOURSE C4
CONCOURSE SKIER
CYCLONE
CYCLONE C4
CYCLONE C4 NASCAR RACE
CYCLONE C4 NASCAR SIG
CYCLONE-STORM PACKAGE I
CYCLONE-STORM PACKAGE II
CYCLONE-STORM PKG I
CYCLONE-STORM PKG II
CYCLONE-STORM PKG III
DOMINATOR
16 SK
17 SK
18 SK
AIR WARRIOR
AVALANCHE
AVALANCHE C4
AVALANCHE-STM PKG II
AVALANCHE-STM PKG III
AVALANCHE-STORM PACKAGE I
AVALANCHE-STORM PKG I
AVALANCHE-STORM PKG II
AVALANCHE-STORM PKG III
AVLNCH-STORM PKG II
AVLNCH-STORM PKG III
CARBON PRO