ABOUT CHECKMATE BOATS INC BOATS
A builder of high-performance boats originally targeting the racing community, Checkmate Boats Incorporated has applied much of their initial power sport lessons to the customer industry. Handmade fiberglass performance boats define Checkmate product line. Not only assuring performance, craftsmanship is important to Checkmate Boats Incorporated. The company makes every attempt to water test their boats before they're sold to customers.

Find your CHECKMATE BOATS INC  boat cover below: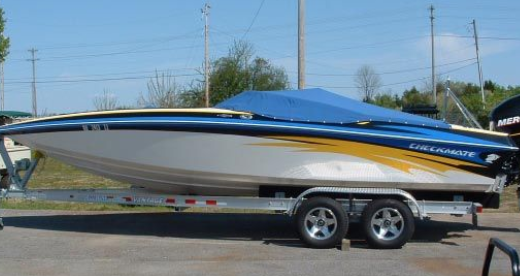 Checkmate Boats Inc Facts:
Checkmate is about speed. It's been this way since 1963 when Bill Combs set out to build the finest, fastest, best performing racing boat at his factory in Bucyrus, Ohio. By his own admission, Bill was obsessed with racing. He originally began by modifying boats. He then realized that it made sense to build his own racing outboard – and Checkmate was born. With his high performing outboards in tow, Bill and his sons hit the racing circuit in the late 60's - early 70's. Almost overnight, Checkmate boats and racing became synonymous. Throughout the ensuing decades, Checkmate continued to dominate the racing circuits.
Popular Checkmate Boats Inc  Boat Models:
CONVINCOR 260
CONVINCOR 270
CONVINCOR 270 BR
CONVINCOR 2800 OBX
CONVINCOR 281
CONVINCOR 283
CONVINCOR 300
CONVINCOR 301
CONVINCOR 303
CONVINCOR 320
CONVINCOR GTX
CONVINCOR GTX DLX
CONVINCOR HP
DECKMATE
DIPLOMAT
2800 SX
300 SX
AMBASSADOR
AMBASSADOR DLX
BASSMATE I
CONVINCOR
CONVINCOR 216
CONVINCOR 220
CONVINCOR 240
CONVINCOR 242
CONVINCOR 242/SPORT
CONVINCOR 251
CONVINCOR 253
CONVINCOR 253 DLX
CONVINCOR 259