COBALT BOAT COVERS FROM NATIONAL BOAT COVERS
National Boat Covers offers the widest variety of high-quality boat covers for Cobalt Boats. Choose the perfect fit boat cover for your exact model and size Cobalt Boat using our drop down selector menu. Our boat covers are made with waterproof heavy-duty marine grade fabrics such as Sunbrella, Sunflair, and Marinex. These are the best semi-custom fit covers on the market today.
Call our USA based cover experts for assistance. 800.616.0599.


Find your COBALT BOATS boat cover below: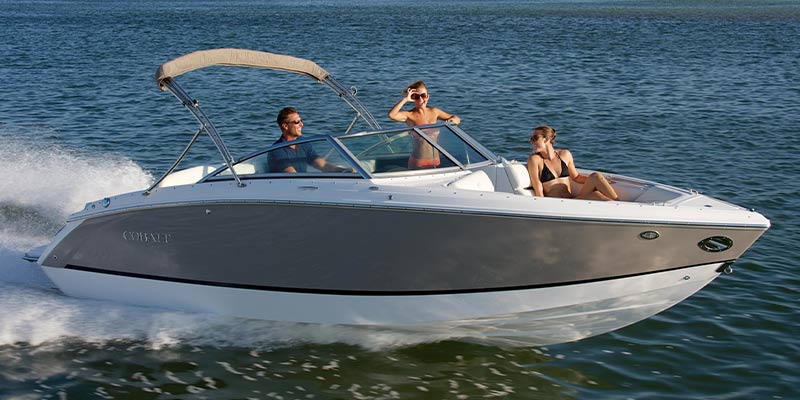 ABOUT COBALT BOATS
A Kansas-based manufacturer, Cobalt Boats is far from a newcomer to power boating. High-quality watercrafts built with attention to fine detail, Cobalt Boats range from runabout size to cabin cruiser varieties. Cobalt boats boast many innovative features in their product line-up including flip-down swim steps and retractable dock lines. A special water sports series of Cobalt boats allows activities such as waterskiing and wakeboarding to be performed with ideal equipment.
COBALT BOAT FACTS
Regardless of sea conditions, the award winning ride of the Cobalt hull design stands ready, willing, and able. Whether it's 2-foot chop in the bay or 4-foot seas off the cape, your Cobalt can handle the test. Unlike our rivals, Cobalt does not use machine applied chopped strand fiberglass in the hull. Cobalt boats have 16 overlapping fiberglass layers at the keel, and each layer is hand laid. Cobalt's fiberglass includes a proprietary Z-Thane barrier coat for improved blister resistance. Instead of wood, with its potential for deterioration, a honeycomb composite core and fabrications stringer system optimize the strength-to-weight ratio, sound deadening and eliminates the possibility of wood rot. While other builders are content with decals, Cobalt molds all graphics into the fiberglass. 
Popular Cobalt Boats Boat Models:
227
22T
23 LS
230
230WSS
232
232 WSS
232WSS
233
24 SX
240
240
240 SD
242
242WSS
200
200WSS
202
202 CS
203 CS
206
210
210WSS
212
220
220WSS
222
222WSS
223
226