CRAIG CATAMARAN CORPORATION BOAT COVERS
ABOUT CRAIG CATAMARAN CORPORATION BOATS
In business since 1991, Craig Catamaran Corporation operates in Orlando, Florida producing some uniquely compact powerboats. Suited for a pair of occupants, the fast and highly maneuverable watercraft created by Craig Catamaran Corporation are catamaran-hulled vessels only 11 feet, 4 inches in length. Gasoline, electric and hybrid models of CraigCat vessels are now available on the marketplace.

Find your CRAIG CATAMARAN CORPORATION boat cover below:
CRAIG CATAMARAN CORPORATION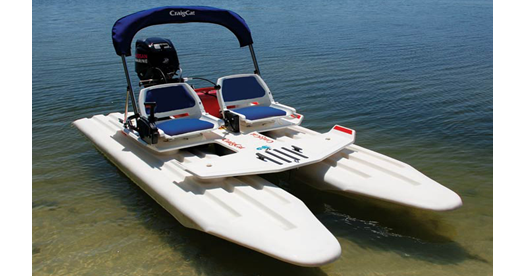 Popular Craig Catamaran Corporation Boat Models:
"E2" CRAIG CAT/DB-OB
"E2" CRG ELITE/DB-OB
CRAIG CAT 2 SEAT/DB-OB
CRAIG CAT 4 SEAT/DB-OB
CRAIG CAT 4 STRK/DB-OB
CRAIG CAT 5HP/DB-OB
CRAIG CAT CLSSC/DB-OB
CRAIG CAT HYBRID/DB-OB
CRAIG CAT/DB-OB
CRG CAT CATCH IT/DB-OB
MAGNUS/DB-OB
ULTRALITE DLX/DB-OB
Craig Catamaran Corporation Facts:
Since 1990, the Craig Catamaran Corporation's goal was to devise and construct an affordable, comfortable and maneuverable sportboat. Over the years, the CraigCat® has been developed to its fullest potential and now sets the standard in small boat recreation. This distinctive runabout is recipient of various awards, including the 2005 "Boat of the Year" Award by Makes and Models Magazine.