ABOUT CRESTLINER/AMF BOATS
Producing aluminum and fiberglass vessels, AMF Incorporated operated the Crestliner line from 1972 to 1981. Bowriders and cuddy boats fill the model range for Crestliner/AMF powered by outboard and stern driver motors. When AMF put the Crestliner brand up for sale in 1981, former employees of the boat company got together and purchased the Crestliner name.

Find your CRESTLINER/AMF boat cover below: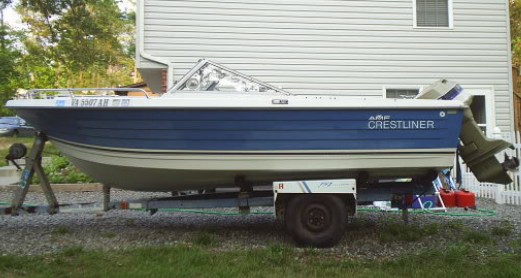 Crestliner/AMF Facts:
Since 1946, Crestliner has prided itself on constructing boats that are simply built right and built to last. Through superior design, quality craftsmanship, attention to detail, and unmatched value, Crestliner has become synonymous with the world's most durable aluminum boats.
Popular Crestliner/AMF Boat Models:
1250 SPORTSMAN
14 KODIAK SC
14 KODIAK TILLER
1450 SPORTSMAN
1546 RETRIEVER
16 KODIAK SC
16 KODIAK TILLER
16 STORM
1600 FISH HAWK SC
1600 FSH HAWK TILLER
1600 VISION
1650 FISH HAWK SC
1650 FISH HAWK WT
1650 PRO TILLER
1650 RETRIEVER
1650 RETRIEVER DLX
1650 RETRIEVER SC
1650 SPORTSMAN
1650 SUPER HAWK
1657 OUTLOOK TILLER
1657 SS
17 STORM
1750 FISH HAWK SC
1750 FISH HAWK WT
1750 PRO TILLER
1750 RAPTOR SC
1750 RAPTOR WT
1750 SUPER HAWK
1756 RETRIEVER
1756 RETRIEVER DLX
1756 RETRIEVER SC
18 KODIAK SC
18 KODIAK TILLER
1800 COAST EDITION
1850 COMMANDER
1850 FISH HAWK SC
1850 FISH HAWK WT
1850 PRO TILLER
1850 RAPTOR SC
1850 RAPTOR WT
1850 SPORTFISH
1850 SPORTFISH SST
1850 SUPER HAWK
1860 RETRIEVER
1860 RETRIEVER CC
1860 RETRIEVER DLX
1860 RETRIEVER SC
1950 FISH HAWK SC
1950 FISH HAWK WT
1950 SPORTFISH
1950 SPORTFISH SST
1950 SUPER HAWK
2000 COAST EDITION
2000 INTRUDER
2050 AUTHORITY
2050 RAPTOR WT
2070 RETRIEVER
2070 RETRIEVER CC
2070 RETRIEVER SC
2150 SPORTFISH
2150 SPORTFISH SST
2200 BAY
2200 INTRUDER
2250 AUTHORITY
CR 1032
CR 1232
CR 1236
CR 1436
CR 1436 L
CR 1448
CR 1448 M
CR 1448 MT
CR 1448 T
CR 1648
CR 1648 M
CR 1648 MT
CR 1648 T
CR 1852 MT
CRV 1257
CRV 1457
CRV 1467
CRV 1667
TC 17
TC 18
VT 17
VT 18
VT 19
1450 DISCOVERY SC
1450 DISCOVERY TILLER
1546 RETRIEVER
1600 STORM
1600 VISION
1600 VISION TILLER
1650 DISCOVERY SC
1650 DISCOVERY TILLER
1650 FISH HAWK SC
1650 FISH HAWK WT
1650 PRO TILLER
1650 RETRIEVER
1650 RETRIEVER DLX1650 RETRIEVER SC
1650 SUPER HAWK
1657 OUTLOOK TILLER
1657 STICK STEER
1700 STORM
1700 VISION1750 FISH HAWK SC
1750 FISH HAWK WT
1750 PRO TILLER
1750 RAPTOR SC
1750 RAPTOR WT
1750 SUPER HAWK
1756 RETRIEVER
1756 RETRIEVER DLX
1756 RETRIEVER SC
18 KODIAK SC
18 KODIAK TILLER
1800 COAST EDITION
1850 COMMANDER
1850 FISH HAWK SC
1850 FISH HAWK WT
1850 PRO TILLER
1850 RAPTOR SC
1850 RAPTOR WT
1850 SPORTFISH
1850 SPORTFISH SST
1850 SUPER HAWK
1860 RETRIEVER
1860 RETRIEVER CC
1860 RETRIEVER DLX
1860 RETRIEVER SC
1950 FISH HAWK SC
1950 FISH HAWK WT
1950 SPORTFISH
1950 SPORTFISH SST
1950 SUPER HAWK
2000 BAY
2000 COAST EDITION
2000 INTRUDER
2050 AUTHORITY
2070 RETRIEVER
2070 RETRIEVER CC
2070 RETRIEVER SC
2100 RAPTOR
2150 SPORTFISH
2150 SPORTFISH SST
2200 BAY
2200 INTRUDER
2250 AUTHORITY
CR 1032
CR 1040
CR 1232
CR 1236
CR 1436
CR 1436 L
CR 1448
CR 1448 M
CR 1448 MT
CR 1448 T
CR 1648
CR 1648 M
CR 1648 MT
CR 1648 T
CR 1852 MT
CRV 1257
CRV 1457
CRV 1467
CRV 1667
TC 17
TC 18
TC 19
VT 17
VT 18
VT 19
1450 DISCOVERY SC
1450 DISCOVERY TILLER
1546 RETRIEVER
1600 STORM
1600 VISION
1600 VISION TILLER
1650 DISCOVERY SC
1650 DISCOVERY TILLER
1650 FISH HAWK SC
1650 FISH HAWK WT
1650 PRO TILLER
1650 RETRIEVER
1650 RETRIEVER DLX
1650 RETRIEVER SC
1650 SUPER HAWK
1657 OUTLOOK TILLER
1657 STICK STEER
1700 STORM
1700 VISION
1750 FISH HAWK SC
1750 FISH HAWK WT
1750 PRO TILLER
1750 RAPTOR SC
1750 RAPTOR WT
1750 SUPER HAWK
1756 RETRIEVER1756 RETRIEVER DLX
1756 RETRIEVER SC
18 KODIAK SC
18 KODIAK TILLER
1800 ARROW
1800 COAST EDITION1850 COMMANDER
1850 COMMANDER ELITE
1850 FISH HAWK SC1850 FISH HAWK WT
1850 PRO TILLER
1850 RAPTOR SC
1850 RAPTOR WT1850 SPORTFISH
1850 SPORTFISH SST
1850 SUPER HAWK
1860 RETRIEVER
1860 RETRIEVER CC
1860 RETRIEVER DLX
1860 RETRIEVER SC
1950 FISH HAWK SC
1950 FISH HAWK WT
1950 SPORTFISH
1950 SPORTFISH SST
1950 SUPER HAWK
200 RALLY CS
200 RALLY CW
200 RALLY CWDH
200 RALLY DX CS
200 RALLY DX CW
200 RALLY DX CWDH
200 RALLY DX FC
200 RALLY DX FS
200 RALLY DX SPORT PKG
200 RALLY FC
200 RALLY FS
200 RALLY SPORT PACKAGE
200 RALLY V3 ACTN PKG 25"
200 RALLY V3 ACTN PKG 27"
200 RLLY DX V3 ACT PK 25"
200 RLLY DX V3 ACT PK 27"
2000 ARROW
2000 BAY
2000 COAST EDITION
2000 INTRUDER
2050 AUTHORITY
2050 COMMANDER
2050 COMMANDER ELITE
2070 RETRIEVER
2070 RETRIEVER CC
2070 RETRIEVER SC
2100 RAPTOR
2150 SPORTFISH
2150 SPORTFISH SST
220 RALLY CS
220 RALLY CW
220 RALLY CWDH
220 RALLY DX CS
220 RALLY DX CW
220 RALLY DX CWDH
220 RALLY DX FC
220 RALLY DX FS
220 RALLY DX SPRT PACKAGE
220 RALLY FC
220 RALLY FS
220 RALLY SPORT PACKAGE
220 RALLY V3 ACTN PKG 25"
220 RALLY V3 ACTN PKG 27"
220 RLLY DX V3 ACT PK 25"
220 RLLY DX V3 ACT PK 27"
2200 BAY
2200 INTRUDER
2250 AUTHORITY
240 RALLY CS
240 RALLY CW
240 RALLY CWDH
240 RALLY DX CS
240 RALLY DX CW
240 RALLY DX CWDH
240 RALLY DX FC
240 RALLY DX FS
240 RALLY DX SPRT PACKAGE
240 RALLY FC
240 RALLY FS
240 RALLY SPORT PACKAGE
240 RALLY V3 ACTN PKG 25"
240 RALLY V3 ACTN PKG 27"
240 RLLY DX V3 ACT PK 25"
240 RLLY DX V3 ACT PK 27"
CR 1032
CR 1040
CR 1232
CR 1236
CR 1436
CR 1436 L
CR 1448
CR 1448 M
CR 1448 MT
CR 1448 T
CR 1648CR 1648 M
CR 1648 MT
CR 1648 T
CR 1852 MT
CRV 1257
CRV 1457
CRV 1467
CRV 1667
PT 18
VT 17
VT 17C
VT 18
VT 18C
VT 19
VT 19C
1258 OUTREACH
1450 DISCOVERY SC
1450 DISCOVERY TILLER
1458 OUTREACH
1460 OUTREACH
1468 OUTREACH
1468 OUTREACH WT
1546 RETRIEVER
1600 STORM
1600 VISION
1600 VISION TILLER
1650 DISCOVERY SC
1650 DISCOVERY TILLER
1650 FISH HAWK SC
1650 FISH HAWK WT
1650 PRO TILLER
1650 SUPER HAWK1657 OUTLOOK STCK STR
1660 RETRIEVER
1660 RETRIEVER DLX
1660 RETRIEVER FCC
1660 RETRIEVER SC
1668 OUTREACH
1668 OUTREACH WT
1700 STORM
1700 VISION
1750 BASS HAWK
1750 FISH HAWK SC
1750 FISH HAWK WT
1750 PRO TILLER
1750 RAPTOR SC
1750 RAPTOR WT
1750 SUPER HAWK
1760 RETRIEVER
1760 RETRIEVER DLX
1760 RETRIEVER SC
1800 ARROW
1800 KODIAK SC
1800 KODIAK TILLER
1850 BASS HWK BUCKET
1850 BS HWK PEDESTAL
1850 COMMANDER
1850 COMMANDER ELITE
1850 FISH HAWK SC
1850 FISH HAWK WT
1850 PRO TILLER
1850 RAPTOR SC
1850 RAPTOR WT
1850 SPORTFISH OB
1850 SPORTFISH SST
1850 SUPER HAWK
1860 RETRIEVER
1860 RETRIEVER CC
1860 RETRIEVER DLX
1860 RETRIEVER SC
1870 RETRIEVER FCC
1950 FISH HAWK SC
1950 FISH HAWK WT
1950 SPORTFISH SST
1950 SUPER HAWK
200 RALLY CS
200 RALLY CW
200 RALLY CWDH
200 RALLY DX CS
200 RALLY DX CW
200 RALLY DX CWDH
200 RALLY DX FC
200 RALLY DX FS
200 RALLY FC
200 RALLY FS
200 RALLY V3 ACTN PKG 25"
200 RALLY V3 ACTN PKG 27"
200 RALLY V3 SKI PCKG 25"
200 RALLY V3 SKI PCKG 27"
200 RLLY DX V3 ACT PK 25"
200 RLLY DX V3 ACT PK 27"
200 RLLY DX V3 SKI PK 25"
200 RLLY DX V3 SKI PK 27"
2000 ARROW
2000 BAY
2050 AUTHORITY
2050 COMMANDER
2050 COMMANDER ELITE
2070 RETRIEVER
2070 RETRIEVER CC
2070 RETRIEVER SC
2070 RETRIEVER SCHD
2100 RAPTOR
2150 SPORTFISH SST
220 RALLY CS
220 RALLY CW
220 RALLY CWDH
220 RALLY DX CS
220 RALLY DX CW
220 RALLY DX CWDH
220 RALLY DX FC
220 RALLY DX FS
220 RALLY FC
220 RALLY FS
220 RALLY V3 ACTN PKG 25"
220 RALLY V3 ACTN PKG 27"
220 RALLY V3 SKI PCKG 25"
220 RALLY V3 SKI PCKG 27"
220 RLLY DX V3 ACT PK 25"
220 RLLY DX V3 ACT PK 27"
220 RLLY DX V3 SKI PK 25"
220 RLLY DX V3 SKI PK 27"
2200 BAY
2250 AUTHORITY
240 RALLY CS
240 RALLY CW
240 RALLY CWDH
240 RALLY DX CS
240 RALLY DX CW
240 RALLY DX CWDH
240 RALLY DX FC
240 RALLY DX FS
240 RALLY FC
240 RALLY FS
240 RALLY V3 ACTN PKG 25"
240 RALLY V3 ACTN PKG 27"
240 RALLY V3 SKI PKG 25"
240 RALLY V3 SKI PKG 27"
240 RLLY DX V3 ACT PK 25"
240 RLLY DX V3 ACT PK 27"
240 RLLY DX V3 SKI PK 25"
240 RLLY DX V3 SKI PK 27"
CR 1032
CR 1040
CR 1232
CR 1236
CR 1436
CR 1436 L
CR 1448
CR 1448 M
CR 1448 MT
CR 1448 T
CR 1648
CR 1648 M
CR 1648 MT
CR 1648 T
CR 1852 MT
PT 18
PT 20
TC 18
VT 17
VT 17C
VT 18
VT 18C
VT 19