CROWNLINE BOAT COVERS FROM NATIONAL BOAT COVERS
National Boat Covers offers the widest variety of high-quality boat covers for Crownline Boats. Choose the perfect fit boat cover for your exact model and size Crownline Boat using our drop down selector menu. Our boat covers are made with waterproof heavy-duty marine grade fabrics such as Sunbrella, Sunflair, and Marinex. These are the best semi-custom fit covers on the market today. Call our USA based cover experts for assistance. 800.616.0599.


Find your CROWNLINE BOATS boat cover below: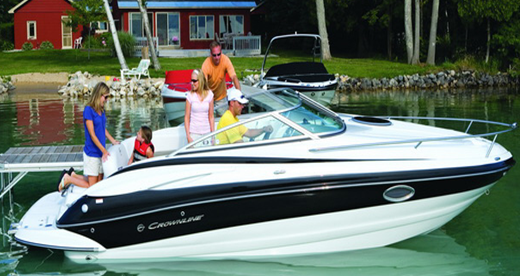 ABOUT CROWNLINE BOATS
Crownline Boats are a rapidly growing modern company in the watercraft industry. A premium quality boat according to the National Marine Manufacturer Association, Crownline Boats pride themselves in offering a value-oriented bowriders, deck boats, cuddy cabin and cruisers. Crownline touts being the first boat manufacturer to offer a cockpit sun bed as well as fleet wide iPod/MP3 capable stereo system. Opened in 1991, the Illinois-based builder presently has over 150 dealerships.
CROWNLINE BOAT FACTS 
For boaters, the really good days, the bright days, the memorable days, happen on the water. On the water, life is worth living. That's where we feel free. We feel the exhilaration. We live out the stories that we tell our friends years later. And that's where we recharge, recuperate and find incredibly peaceful moments of great natural beauty. When we're on water, the world is right. We understand the feeling that when you're on the water, you're where you want to be. While others want simply to sell you a  boat, we want you to have an experience that feeds your passion for living. Live life. Live Crownline.
Popular Crownline Boats Boat Models:
205 CCR
206 LS
208 LX
21 CLASSIC
21 SS
210 BR
210 CCR
210 LS
210 LX
212 DB
215 CCR
215 SS
216 LS
220 CCR
220 EX
DORY SPORT
SPORT
TROPICANA
182 CD
185 SS
19 SS
190 LS
192 BR
195 SS
196 BR
200 DB
200 LS
202 BR
202 CC
205 BR