E-TICKET PERFORMANCE BOATS BOAT COVERS
ABOUT E-TICKET PERFORMANCE BOATS
E-Ticket Performance Boats produces premium high-speed watercrafts ideal for family or group outings. E-Ticket Performance Boats started operations in 2001 providing powerful yet comfortable watercraft to the marine marketplace. Assembling a line-up of luxury catamarans and flat deck boats in Lake Havasu City, Arizona, E-Ticket Performance Boats specializes in creating one-off vessels in accordance to customer demands.

Find your E-TICKET PERFORMANCE BOATS boat cover below:
E-TICKET PERFORMANCE BOATS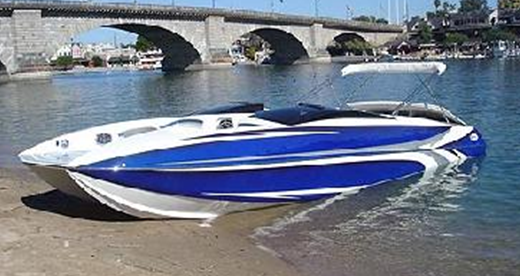 Popular E-Ticket Performance Boats Boat Models:
FLAT DECK-OB
LUXURY CAT/DB-I/O
LUXURY CAT/DB-I/O
RC-28/OS-I/O
RC-28/OS-OB
E-Ticket Performance Boats Facts:
Exceptional design and superior function owe a great deal to the delicate art of balance. The right elements drawn together in proportion will inevitably result in a product that works better on a number of levels. Aesthetics balanced with performance. Style balanced with substance. E-Ticket has always paid particular attention to creating and maintaining careful balance of its product. The result is a unique line of boats that deliver an extraordinary blend of world-class performance, incredible versatility, outstanding user conveniences and overall functionality unmatched by any other boat on the water. From world championship drivers to families and friends getting together for a great time, this attention to balance has shown E-Ticket owners throughout the world that they can have it all in one exceptional boat.