EAGLE PERFORMANCE BOAT COVERS
ABOUT EAGLE PERFORMANCE BOATS
A brand within Outlaw Eagle Manufacturing Limited, Eagle Performance specializes in sport boats designed to handle a variety of waters. Eagle Performance is a business situated in Red Deer, Alberta focused on constructing well-built aluminum jet boats. Equipping their vessels with a patented Step Tec bottom, the hull design of Eagle Performance boats promotes excellent handling.

Find your EAGLE PERFORMANCE boat cover below: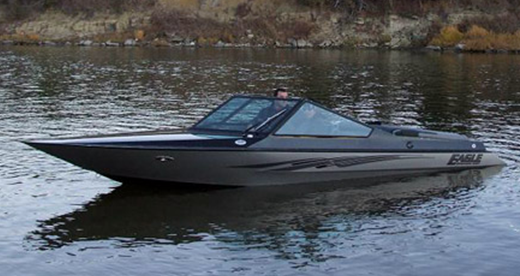 Popular Eagle Performance Boat Models:
SABRE E6/BR
SABRE E7/SU
SPORT 15V/SU
SPORT 16V/SU
SPORT 16X/SU
SPORT 17X/SU
SPORT 19/SU
SPORT 19FX/SU
SPORT 21/SU
SPORT 21X/SU
Eagle Performance Facts:
Outlaw Eagle Manufacturing continues to remain the most innovative and durable aluminum jet boat company leading the way in our industry. When it comes to quality, by understanding our customer's needs, we build them the strongest and best handling river boat available. Our pictures are of people who love to boat and who love boating, no frilly marketing and hiring models or photographers….we ARE the real thing.