EBBTIDE CORP BOAT COVERS FROM NATIONAL BOAT COVERS
National Boat Covers offers the widest variety of high-quality boat covers for Ebbtide Corp Boats. Choose the perfect fit boat cover for your exact model and size Ebbtide Corp Boat using our drop down selector menu. Our boat covers are made with waterproof heavy-duty marine grade fabrics such as Sunbrella, Sunflair, and Marinex. These are the best semi-custom fit covers on the market today.
Call our USA based cover experts for assistance. 800.616.0599.

Find your EBBTIDE CORP boat cover below: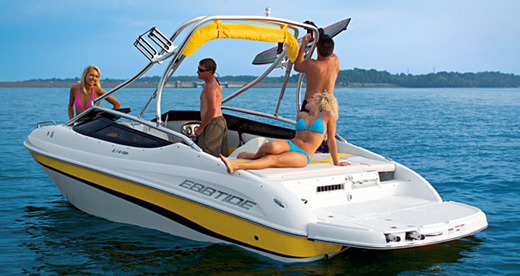 ABOUT EBBTIDE CORP BOATS
Targeting the family recreation market, Ebbtide produces an exciting line of bowriders, cuddies and fun cruiser boats. Ebbtide constructs all of their vessels with hand-laid glass-reinforced resin. Providing outstanding performance and handling, Ebbtide boats abides to the highest standards of the industry as well as the United States Coast Guard. Ebbtide's Dyna Plane hull is protected through a limited lifetime warranty.
EBBTIDE CORP BOATS FACTS 
It's not the only way, but it is the best way to build boats. If mass production were the goal, Ebbtide would need to alter the way they build each boat. But since the company's goal is to build the best boat money can buy, they've taken the less traveled course. Ebbtide's exclusive unitized grid stringer system with Perma-Panel core combined with the exclusive DURA-CORE™ hull construction are two examples. The results are a stable ride and very little noise through rough water. These are things the discriminating boat buyer demands. It takes longer and costs more to build. You can feel the difference. You can hear the difference. You can see the difference. It's the Ebbtide difference.
Popular Ebbtide Corp  Boat Models:
162
162 SK
162 SS
162 SS COMBO
166
166 SK
166 SS
166 STE
166 STE CRAPPIE
17
17 RIVIERA
170
170 DC
170 DC STE
170 MONTEGO
170 SC
170 SC STE
170 SPL
170 STE
176
15
15 CUSTOM
150
150 SPORT
150 TRI V
152 V
152SS
155 SS
156
156 SK
156 SS
16
16 CUSTOM
16 STANDARD
160
160 SS
160 SS COMBO CUSTOM
160 SS COMBO STANDARD
160 SS SPL
160 STE
194 STE
195
195 CUDDY
195 FISH & SKI
195 STE
196 SS
196 STE
196SS LE
198 BOW RIDER
200
200 BOW RIDER
200 LINERED BOW RIDER
200 SE BOW RIDER
200 SS
200 SS OPEN BOW
200 STE
2000 LINERED BOW RIDER
2000 SS BOW RIDER
201 SS
201 SS OPEN BOW