EDGE MARINE BOAT COVERS
ABOUT EDGE MARINE BOATS
Edge Marine supplies strong-performing aluminum jet boats from an Oregon production facility. Since 2004, Edge Marine has described themselves as the builders of multi-purpose vessels suitable for recreational activities including skiing, fishing or cruising. A limited lifetime warranty protects Edge Marine customers against structural issues.

Find your EDGE MARINE boat cover below: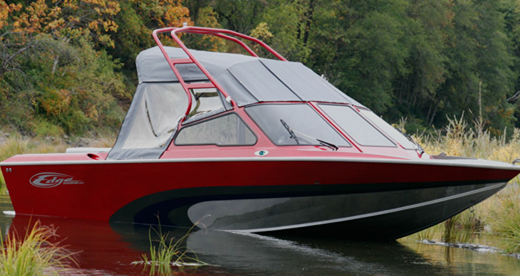 Popular Edge Marine Boat Models:
20 SPORT LX
20 SPORT SE
20 VELOCITY LS
20 X-CALIBER
21 SPORT LX
21 SPORT SE
21 VELOCITY LS
21 X-CALIBER
22 SPORT LX
22 SPORT SE
22 VELOCITY LS
22 X-CALIBER
23 SPORT LX
23 SPORT SE
23 VELOCITY LS
23 X-CALIBER
24 SPORT LX
24 SPORT SE
24 VELOCITY LS
24 X-CALIBER
Edge Marine Facts:
Experienced boaters know that the true measure of quality often lies hidden beneath glossy finishes and fancy marketing claims. Edge Marine welcomes a closer examination of our boats and the process in which we build them, as we are certain you will be impressed with our deep rooted commitment to building a better boat. The difference between an average boat and a great one lies not only in the materials used in construction, but also in the care and expertise with which those materials are assembled. With more than four decades of boat building experience to draw from, Edge Marine has refined boat building to a perfected art and each boat we build is our latest "master piece". While others cut time and cost by relying on outside vendors and assembling boats from simpler pre-formed components, Edge invests the extra time and painstaking labor needed to create true hand-crafted boats. Our expert boat builders, all whom have been building boats for years, carefully hand fit each and every piece to exact Edge specifications. With this extra effort Edge is able to achieve a degree of strength, longevity and quality unmatched by any "assembly line" builder.