EXPLORER BOAT MFG BOAT COVERS
ABOUT EXPLORER BOAT MFG BOATS
A creator of center console fiberglass boats, Explorer Boat Manufacturing was founded in 1994. Ranging between 14 and 25 feet in length, the vessels produced by Explorer Boat Manufacturing are suited towards daily sport fishing trips. A Texas-based marine manufacturer, Explorer Boat Manufacturing was sold Dargel Boat Works after the 2008 model year after owner Glen French retired from the industry.

Find your EXPLORER BOAT MFG boat cover below: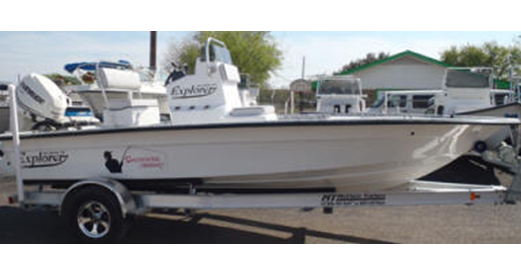 Popular Explorer Boat MFG Boat Models:
140-FT/CC
170-HS/CC
170-TV/CC
190-TV/CC
210-HS/CC
210-TV/CC
230-TV/CC
ATTACKAFLAT 183/CC
ATTACKAFLAT 203/CC
ATTACKAFLAT 233/CC
FLATSMASTER 1850/CC
FLATSMASTER 240/CC
FLATSMASTER 250/CC
Explorer Boat MFG Facts:
Explorer Boats have always had a loyal following due to their smooth dry ride in rough conditions, when Dargel Boats purchased the assets and name it was to take an already good design and improve it. Explorer Boats now have a closed cell foam filled fiberglass stringer system and a completely foam filled hull that provides a solid boat that rides and handles even better than ever! Other improvements include molded composite hatches with an integrated drain system that not only looks great, but they keep your gear dry. The all new modern console ads both appeal and the function that an angler needs with the built in live well under the cushioned seat, the console is completely enclosed protecting important rigging components from the salt air and harsh marine environment.