HARRIS FLOTE BOTE BOAT COVERS FROM NATIONAL BOAT COVERS
National Boat Covers offers the widest variety of high-quality boat covers for Harris Flote Bote Boats. Choose the perfect fit boat cover for your exact model and size Harris Flote Bote Boat using our drop down selector menu. Our boat covers are made with waterproof heavy-duty marine grade fabrics such as Sunbrella, Sunflair, and Marinex. These are the best semi-custom fit covers on the market today.
Call our USA based cover experts for assistance. 800.616.0599.


Find your HARRIS FLOTE BOTE boat cover below: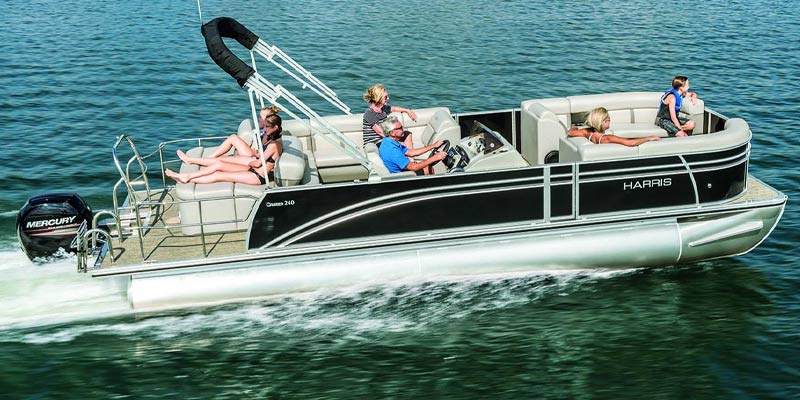 ABOUT HARRIS FLOTE BOTE BOATS
Harris/Kayot builds an array of sport, cruiser as well as pontoon boats to the standards of most major marine guidelines. Created through the merging of two manufacturing companies in 1983, Harris/Kayot has gone on to become part of the Brunswick Boat Group. Featuring many high capacity boats, families will enjoy many activities with the Harris/Kayot line-up.
HARRIS FLOTE BOTE FACTS 
For more than 60 years, Harris has been serving its customers with the mission of making time on the water better than ever. Premium materials and ample space ensure you and your guests will cruise in complete comfort. Harris' total torsion reduction system features full-length pontoon riser brackets, which absorb and distribute the shock of rough waves and minimize deck torque. Rotocast seat bases come with a built-in air ventilation and water drainage system to help keep storage space dry. Impressive seating, such as loungers with built-in speakers and cup holders, and cutting-edge features like powered backrests on select models deliver complete comfort on the water. Harris lets you define what spacious means to you, with dozens of possible seating configurations to choose from.
Popular Harris Flote Bote  Boat Models:
2000 LSI
226 SUPER DEK
ANGLER
BROUGHAM K200
CITATION K-170
CLASSIC K-170
CLASSIC K-200
CLASSIC K200
CRUSADER
CRUSADER K-167
CRUSADER K167
D226
DC-17
DC-19
DC-21
DECK BOAT
FLOTE DEK-17
FLOTE DEK-20
FLOTE-BOTE DC-17
FLOTE-BOTE DC-19

0180 CORSO
0200 LS
02000 LSI
0DC-19 STEP IN
0DC-19 STEP ON
0DC-21 STEP ON
0FLOTE-BOTE DC-19 STEPIN
0FLOTE-BOTE DC-19 STEPON
0FLOTE-BOTE DC-21 STEPON
0FLOTEDEK 170
0FLOTEDEK 180
0FLOTEDEK 180 DLX
0FLOTEDEK 200 LS
0FLOTEDEK 2000 LSI
0FLOTEDEK LS 170
160
180 CORSO
180 STEP ON
200 LTD
2000 LSI
FLOTE-BOTE DC-21
FLOTEDEK 160
FLOTEDEK 170 LS
FLOTEDEK 200
FLOTEDEK LS 200
K-170
K-170 D
K-200 D
K170 LTD
K18
K18 STEP ON
K180
K180 DLX
K200 LIMIT
K200 LIMITED
K200 LTD
K2000 ULTIMA
LEGEND
LEGEND
LEGEND