HIGH TORQUE MARINE BOAT COVERS
ABOUT HIGH TORQUE MARINE BOATS
Building high-speed performance boats, High Torque Marine was established in 1995 by Steve Coulombe. Offering vessels with open and closed deck, cuddy cruiser models were also available from High Torque Marine. Production of High Torque Marine powerboats ended in 2007 when company HTM2 acquired assets.

Find your HIGH TORQUE MARINE boat cover below: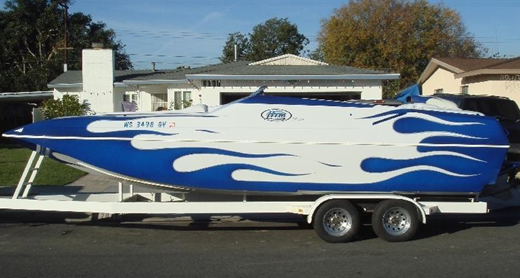 Popular High Torque Marine Boat Models:
277 STEP V-BOTTOM
CUDDIE CRUISER
CUDDIE SPORT
MILLENIUM 28/OB
PHANTOM 28/CA
SC-266 DECK
SC-277 DECK
SC-277 VISION
SC-277/CA
SL-306 BULLET
SL-306 LEGACY
SL-306 LEGACY OPEN BOW
SR-24
SR-24 CLOSED BOW
SR-24 OPEN BOW
SS-24
SS-24 CLOSED BOW
SS-24 LOW PROFILE
SS-24 OPEN BOW
STEP V-BOTTOM
SV-30 CABIN CRUISER
High Torque Marine Facts:
HTM , High Torque Marine was created by Steve Coulombe.Coulombe was a man that had passion for speed, safety and his family. Unfortunately God called him home January 11, 2002. His wife Lia kept his legend alive by building and selling boats for three years until Lia sold HTM to Rod and Renee Devries in 2005. Rod and Renee Devries admit they weren't experts in the boat business before they decided to buy High Torque Marine, but the husband and wife understood that HTM had loyal customers and a strong lineup of boats to expand upon. What they didn't know was how quickly they'd be engulfed in the company and the industry. Rod and Renee began building the boats in Lake Havasu City, AZ., with a focus on improving the overall quality. While the Devries are focused on moving forward with HTM, they understand that taking care of current HTM customers is equally important. Utilizing Carder Performance and Marine, Cale Carder has moved into the shop at HTM to take care of all the current HTM owners, Cale is one of the best when it comes to high performance motors and drives. The name HTM has a lot of meaning behind it, and a lot of followers behind it. We want to make all of the HTM owners proud. High Torque Marine is revolutionizing the boating industry with unparalleled performance and design. We are always trying new technology on our performance boats.