HURRICANE BOAT COVERS FROM NATIONAL BOAT COVERS
National Boat Covers offers the widest variety of high-quality boat covers for Hurricane Boats. Choose the perfect fit boat cover for your exact model and size Hurricane Boat using our drop down selector menu. Our boat covers are made with waterproof heavy-duty marine grade fabrics such as Sunbrella, Sunflair, and Marinex. These are the best semi-custom fit covers on the market today.
Call our USA based cover experts for assistance. 800.616.0599.

Find your HURRICANE boat cover below: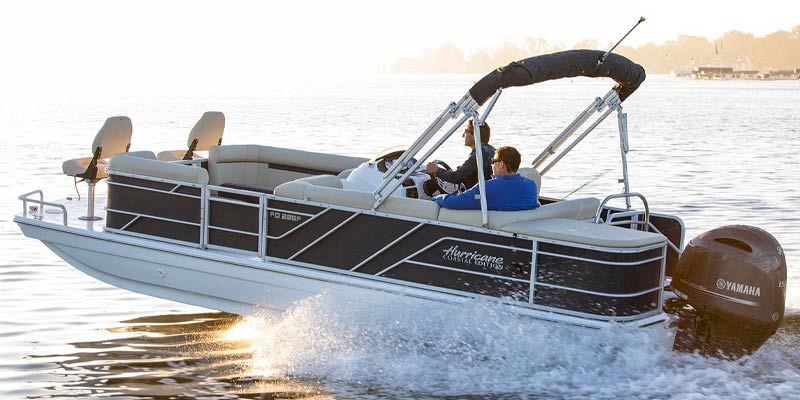 ABOUT HURRICANE BOATS
Currently operating under the Nautic Global Group, the Hurricane brand features a product offering of sporty looking deck boats and pontoon-like crafts. Said to account for as much as a 74% market share of the outboard deck boat sales, Hurricane watercrafts resided as an important presence since 1974. Avail user to a multitude of experiences on the water, cruising, wakeboarding and fishing can be conducted with Hurricane deck boats.
HURRICANE FACTS
When you're looking for a family boat, there's only one thing that you want: everything. You need a boat that's ready to play hard and perform well, trip after trip, year after year, no matter what adventure you have in mind. And Hurricane's SunDeck, SunDeck Sport, and FunDeck lines have you covered. Fishing, check. Wakeboarding, check. Sunset dinner cruise, check. And when you factor in the huge number of seating options, best-in-class storage and easy handling, the answer is easy. When you want everything, you want a Hurricane Deck Boat.
Popular Hurricane Boat Models:
DIRECTOR 196 FUN DECK
ELITE SUN DECK 176
ELITE SUN DECK 196
ELITE SUN DECK 2200
ENTERTAINER FD226
EXC CRUISER FUN DECK
EXECUTIVE
EXECUTIVE FD19
EXECUTIVE FD196
EXECUTIVE FD206
EXECUTIVE FD226
FISH/FUN FD226
FISHERMAN
FISHERMAN FD196
FISHERMAN FD206
FISHERMAN FD226
FORECASTER
FREEDOM SUN DECK 176
FUN DECK 16
FUN DECK 170 GS
16
20
2000 SE SPECIAL EDITION
2000 SE SUN DECK
205 SL SUN DECK
206 LUXURY CRUISER
226 EXECUTIVE
236 LUXURY CRUISER
2400 MID CABIN
BIG DECKER
CHALLENGER
CHALLENGER SL
CLASS DECKER
CYCLONE
CYPRESS SD176
CYPRESS SD196
CYPRUS 176 SUN DECK
CYPRUS 196 SUN DECK
CYPRUS SD176
CYPRUS SD196
FUN DECK 172
FUN DECK 172 GS
FUN DECK 187
FUN DECK 188 GS
FUN DECK 190 GS
FUN DECK 193 CC
FUN DECK 194 GS
FUN DECK 196
FUN DECK 196 DLX
FUN DECK 196 EXECUTIVE
FUN DECK 196 F
FUN DECK 196 FF
FUN DECK 196 FISH & FUN
FUN DECK 196 FISH & SUN
FUN DECK 196 FSH & CRUISE
FUN DECK 196 LUXURY CR
FUN DECK 196 RE
FUN DECK 196 RE3
FUN DECK 196 RE4
FUN DECK 196 REAR ENTRY