HYDRA-SPORTS BOAT COVERS FROM NATIONAL BOAT COVERS
National Boat Covers offers the widest variety of high-quality boat covers for Hydra-Sports Boats. Choose the perfect fit boat cover for your exact model and size Hydra-Sports Boat using our drop down selector menu. Our boat covers are made with waterproof heavy-duty marine grade fabrics such as Sunbrella, Sunflair, and Marinex. These are the best semi-custom fit covers on the market today.
Call our USA based cover experts for assistance. 800.616.0599.

Find your HYDRA-SPORT boat cover below: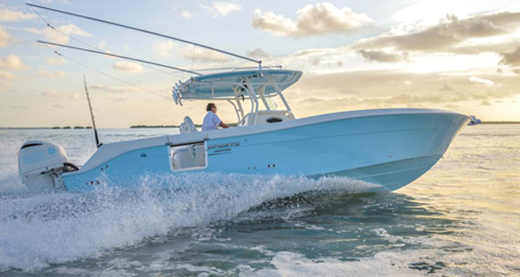 ABOUT HYDRA-SPORTS BOATS
Hydra-Sport Boats has 40 years of boat living and building experience. They openly share our evolution with you; from the design and engineering to the distribution leading up to where we are today.The company's first center consoles were 'firsts' in many ways. First offshore hulls to use Kevlar. First center consoles to fish against the traditional sport fish inboard boats in the offshore tournament circuits. First with high horsepower ratings and huge fuel capacities to be coast guard approved. Seaworthy, light, fast, best ride on the water - these were our battle cries.
HYDRA-SPORT BOATS FACTS
While still keeping all the angling appointments correct and the balance and ride correct, Hydra-Sport now concentrates on customers comforts: styling, dive doors and the sleek look of our current models. The results are obvious to see and feel in the most thought-out, beautifully finished, most comfortable angling correct boats in our 40 year evolution. One can tournament fish on Saturday, then cruise with our families on Sunday ----- perfect.

Popular Hydra-Sports Boat Models:
LIGHT TACKLE 22 LTS TOWER
LIGHT TACKLE 22 LTS TUNNEL
LIGHT TACKLE 22 LTS TUNNEL/CC
LIGHT TACKLE 22 LTS/CC
SEAHORSE 170/CC
SEAHORSE 180/CC
SEAHORSE 200/CC
SEAHORSE 201/DL
SEAHORSE 212/CC
SEAHORSE 212/WA
SEAHORSE 230/CC
SEAHORSE 230/WA
VECTOR 16 SKIFF
VECTOR 16-SKIFF
VECTOR 1600 SKIFF
VECTOR 1600-CC KEY
VECTOR 1600-KEY
VECTOR 1600CC
VECTOR 1650 FLATS
VECTOR 1650 KEY LARGO
180/CC
19 BAY BOLT
2000/CC
2000/WA
202/DL
2100/CC
2100/WA
23 BAY BOLT
23 BAY BOLT
23 BAY BOLT TUNNEL
3000/CC
3400/CC
AERO COBRA
BAY 20/CC
BAY 22 RD/CC
BAY 22 TUNNEL/CC
BAY 22/CC
LIGHT TACKLE 20 LTC/CC
LIGHT TACKLE 20 LTS
LIGHT TACKLE 22 LTS
VECTOR 1650-CC
VECTOR 1650-CC FLATS
VECTOR 1650-CC KEY
VECTOR 1650-KEY
VECTOR 17 SKIFF
VECTOR 17-SKIFF
VECTOR 170-F/S
VECTOR 170/CC
VECTOR 171
VECTOR 175
VECTOR 175-E
VECTOR 175-E-DC
VECTOR 175-EDC
VECTOR 175-EFS
VECTOR 175-F/S
VECTOR 175/DL
VECTOR 1750-CC
VECTOR 1750-CC-V
VECTOR 1750-CCH
VECTOR 1750-DC