LAKE RAIDER INC BOAT COVERS
ABOUT LAKE RAIDER INC BOATS
Built under Voyager Marine, Lake Raider Incorporated manufactured pontoon and jon boats from the state of Missouri. Lake Raider Incorporated boats are catered to the sport fishing public. While the Lake Raider Incorporated name was discontinued after the 2006 model year, Voyager Marine has proceeded to produce many of the products of the former brand.

Find your LAKE RAIDER INC boat cover below: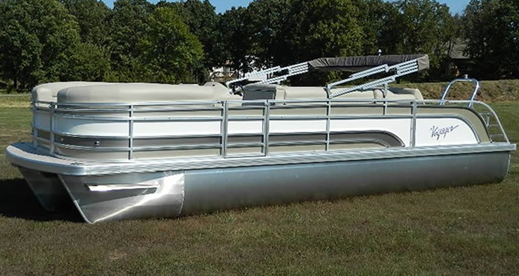 Popular Lake Raider Inc Boat Models:
1770 BASS
1044 JON
LR

l

PONTOON
1870 JON
1047 JON
LR-18
1870 JON OPEN
1244 JON
LR-20
1870 WALK-THRU
1247 JON
LR-20 2 PLUS 2
1885 JON
1256 JON
LR-20 2 PLUS 2 DLX
1885 JON OPEN
1447 JON
LR-24
LR
1456 JON
LR18
LR
1470 JON
LR180 CRUISE
DELUXE

l

PONTOON
1470 JON OPEN
LR182 FISH
LF

l

PONTOON
1470 WALK-THRU
LR184 FISH
LF-18
1570 B
LR20
LF-18 FISHERMAN
1570 BASS
LR20 DELUXE CRUISE
LF-20
1570 BASS SC
LR20 DELUXE FISH
LF18
1570 BSC
LR210 CRUISE
LF18 FISHERMAN
1656 JON
LR210 FISH
LR

l

PONTOON
1670 JON
LR214 FISH
LR

l

PONTOON
1670 JON OPEN
LR24 DELUXE CRUISE
LR

l

PONTOON
1670 WALK-THRU
LR24 DELUXE FISH
LR

l

PONTOON
1685 JON
LR240 CRUISE & FISH
LR

l

PONTOON
1685 JON OPEN
LRD20
Lake Raider Inc Facts:
Since 1988, Voyager has been setting the pace among Pontoon Boat builders. Year after year, we've focused in on the quality of our Construction and integrated countless Innovations. We've built a Nationwide Network of Dealers and lasting relationships with the best suppliers in the industry. Every Voyager Pontoon boasts the finest Pontoon System ever made. Engineered for greater water displacement, our innovative U-Shaped Pontoon Logs outshine the O-shape by providing Optimum Buoyancy. We start with the best and improve from there.