LEAR ELECTRIC BOATS BOAT COVERS
ABOUT LEAR ELECTRIC BOATS
Started in 2005, Lear Electric Boats began in Newport Beach, California. A marine company utilizing zero emissions powerplants for creating upscale watercraft, Lear Electric Boats are well outfitted for pleasure cruises at no more than 7.5 miles per hour. Stereo systems, built-in ice coolers and hydraulic steering are some standard equipment found on the marine products assembled by Lear Electric Boats.

Find your LEAR ELECTRIC BOATS boat cover below: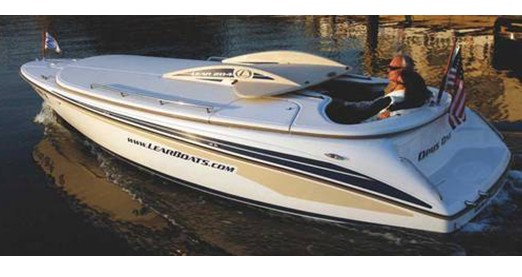 Popular Lear Electric Boats Boat Models:
204 HARDTOP
204 LUX NON-RETRACT HDTOP
204 LUXURY HARDTOP
204 NON-RETRACT HARDTOP
204 NON-RETRACTABLE HDTOP
204 OPEN
204 SOFT TOP
204 TROPICAL HARDTOP
ENTERTAINER
FIXED HARD TOP
GRAND VENETIAN
LECTRA-LIFT HARD TOP
LECTRA-LIFT HARD-TOP
LUX LECTRA-LIFT HD-TOP
LUXURY FIXED HARD TOP
LUXURY FIXED HARD-TOP
LUXURY LECTRA-LIFT HD-TOP
LUXURY SOFT-TOP
OPEN
SOFT-TOP
Lear Electric Boats Facts:
Lear Baylor, Inc. was formed in 2005. The "Lear" is entrepreneur Shanda Lear, daughter of inventor, entrepreneur Bill Lear. The "Baylor" is Shanda's husband "Terry Baylor" boat designer, builder, pattern making and tooling for forty years including tooling and design for aerospace, and many private companies. Few companies can reach a level of excellence that none can surpass. These corporations are home to innovators of highly coveted products and services, and are constantly improving upon their own ideas. Those of such high levels of distinction maintain a standard of excellence for themselves, and continually imagine new products and services that customers desire. A name that has reached that level of superiority is Lear, whose name reflects nothing but positive images in the luxury field. Bill Lear teamed with the best to produce visionary products. His daughter, Shanda, maintaining the prestige of her LEAR name, teamed with the best to bring this visionary product to market. Lear Baylor, Inc. is a team of great caliber and, as to be expected, the new LEAR 204 electric boat surpasses all expectations. The LEAR 204 has redefined the product category of electric boating.