LUND BOAT CO. BOAT COVERS FROM NATIONAL BOAT COVERS
National Boat Covers offers the widest variety of high-quality boat covers for Lund Boat Co. Choose the perfect fit boat cover for your exact model and size Lund Boat Co. using our drop down selector menu. Our boat covers are made with waterproof heavy-duty Marine grade fabrics such as Sunbrella, Sunflair and Marinex. These are the best semi-custom fit covers on the market today.
Call our USA based cover experts for assistance. 800.616.0599.

Find your LUND BOAT CO boat cover below: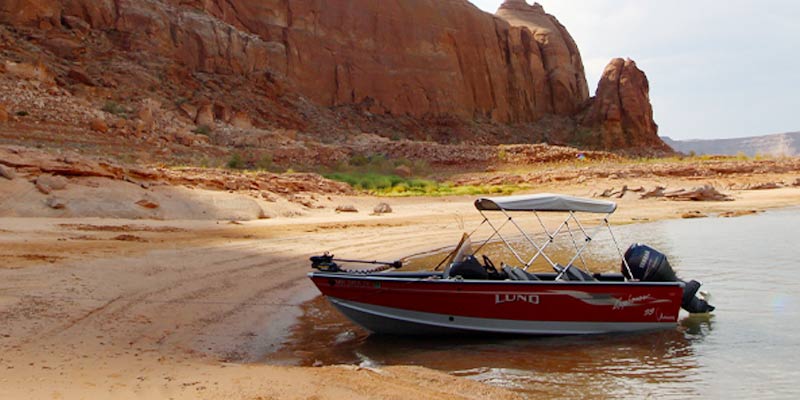 ABOUT LUND BOATS
In 1948, G. Howard Lund built his first aluminum duck boat. The secret behind Lund's success was in his craftsmanship. With an extreme attention to detail, Lund's prototype offered a superior design and unparalleled engineering, creating greater fishability. When a salesman from Inland Marine Corp. asked Howard for 50 more aluminum boats, the Lund Boat Company would begin the production of "The World's Finest Fishing Boats". In 1961, Howard re-incorporated the company as Lund Metal Craft, Inc. and expanded in the fiberglass market. With the acquisition of Shell Lake Boat Company, Lund would now increase versatility with a product line up for family and sport.
LUND BOAT FACTS 
Lund's meticulous design and engineering has created boats delivering the perfect balance of performance and strength. Lund's quality build provides you with the maximum amount of durability and security. They utilize an I-beam infrastructure to create a straight, rock-solid hull. The longitudinal construction maintains the alignment of the boat and allows us to meet tolerances within 1000ths of an inch. Lund's exclusive IPS, IPS2, and IPS3 technology provides unmatched control and a smoother, drier ride. What really sets the company apart is their build process. They use 5052 H 34 Aluminum. Built to perform in all conditions, our hull designs deliver. Visit Lund's Tennessee Fiberglass boat factory, and look at just what it takes to make a fiberglass boat float.
Popular Lund Boat Co  Boat Models:
1440 V REBEL
1440 V REBEL SS
1448 JON
1448D
1448E
1448F
1448M JON
1448MD
1448ME
1448MF
1448MSD
1448MSE
1448MTD
1448MTE
1448MTSD
1448MTSE
1448SD
1448SE
1448TD
1448TE
1032 JON
1032D
1032E
1232 JON
1232D
1232E
1236 JON
1236D
1236E
125 REBEL SS
14 LAKER
14 REBEL
1400 FURY
1400 FURY SS
1425 CLASSIC
1425 CLASSIC SS
1436 JON
1436D
1436E
1436F
1448TSD
1448TSE
1450 REBEL
1450 REBEL SS
1475 REBEL
1475 REBEL SS
15 PRO-GUIDE
16 ALASKAN
16 LAKER
16 REBEL
16 REBEL DLX
16 REBEL SS
1600 ALASKAN
1600 ALASKAN SS
1600 ANGLER
1600 ANGLER DLX
1600 ANGLER II
1600 ANGLER II DLX
1600 ANGLER SS
1600 EXPLORER