MAKO MARINE BOAT COVERS FROM NATIONAL BOAT COVERS
National Boat Covers offers the widest variety of high-quality boat covers for Mako Marine Boats. Choose the perfect fit boat cover for your exact model and size Mako Marine Boat using our drop down selector menu. Our boat covers are made with waterproof heavy-duty marine grade fabrics such as Sunbrella, Sunflair, and Marinex. These are the best semi-custom fit covers on the market today.
Call our USA based cover experts for assistance. 800.616.0599.


Find your MAKO MARINE INC boat cover below: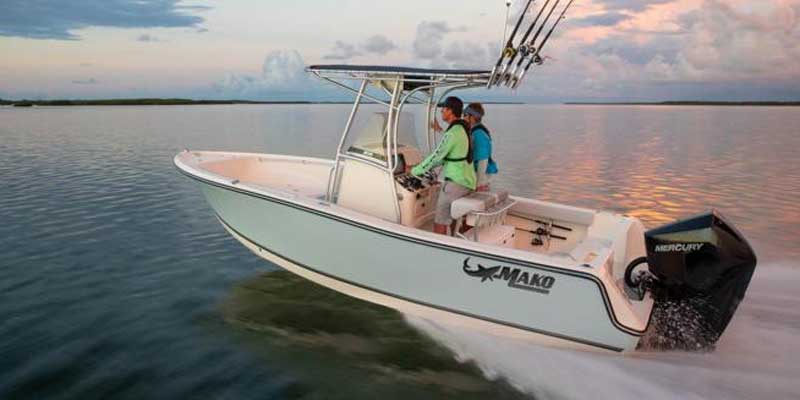 ABOUT MAKO MARINE INC BOATS
Building fishing boats for inshore and offshore fishing, MAKO Marine has dedicated themselves to the production of serious angler craft since 1966. Adhering to a single center console design, MAKO boats have marketed dual console and cuddy hull configurations in past model years. A National Marine Manufacturers Association certified boat manufacturer, the products of MAKO Marine exist at the top of industry standards.
MAKO MARINE INC FACTS
Through the years, MAKO has continued to build upon that legacy. Using real world experiences and research, as well as regular feedback from boat owners, processes have been refined, features updated and layouts redesigned to cater to the ever-changing needs of saltwater anglers. MAKO has even brought the well-known offshore boat quality to inshore and freshwater anglers in a variety of models. Ranging from 16- to 28-feet (4.88 m to 8.53 m) long, today's lineup consists of a wide range of models designed for a wide variety of uses. From redfish to marlin to bass, whatever your quarry, MAKO has a boat that will get you to it! Each center console model comes standard with a baitwell, storage areas, rod holders and more to ensure your MAKO boat will always be your most valuable and trusted fishing partner. Always enabling and aiding, and never inhibiting, your own fishing abilities.
Popular Mako Marine Inc Boat Models:
205 DLX 22 CENTER CONSOLE
212 CENTER CONSOLE
215 WALKAROUND
216 CENTER CONSOLE
216 DUAL CONSOLE
22 MAKO
221 CENTER CONSOLE
223 W/A CABIN 223 W/A CABIN SERIES
223 WALKAROUND
223 WALKAROUND CABIN
225 BOWRIDER DV
225 DLX 225 DLX SERIES DUAL CNSL
231 CENTER CONSOLE
231 DLX 231 DLX SERIES CTR CNSL
231 DLX CENTER CONSOLE
232 CENTER CONSOLE
232 DLX 232 DLX SERIES CC W/BRKT
232 DLX CENTER CONSOLE
232 DLX CTR CNSL W/BKT
233 WALKAROUND
17 CENTER CONSOLE
17 MAKO
171 CENTER CONSOLE
171 FLATS
171 PRO 171 PRO SERIES ANGLER
171 PRO 171 PRO SERIES FLATS
1801
181 FLATS
181 PRO 181 PRO SERIES FLATS
181 PRO 19 CENTER CONSOLE
184 CENTER CONSOLE
19 MAKO
191 CENTER CONSOLE
192 CENTER CONSOLE
195 DUAL CONSOLE
201 CENTER CONSOLE
263 WALKAROUND CABINL
204 CENTER CONSOLE
205 BOWRIDER DV
264 WALKAROUND

234 CENTER CONSOLE
234 DLX CENTER CONSOLE
234 DUAL CENTER CONSLE
234 WALKAROUND
236 DLX 236 DLX SERIES CTR CNSL
241 DLX 241 DLX SERIES CTR CNSL
243 W/A CABIN 243 W/A CABIN SERIES
243 WALKAROUND
243 WALKAROUND CABIN
251 CENTER CONSOLE
251 DELUXE 251 DELUXE SERIES
251 DLX 251 DLX SERIES CC
251 DLX 251 DLX SERIES CTR CNSL
251 DLX CENTER CONSOLE
252 CENTER CONSOLE
252 CENTER CONSOLE W/BKT
252 DLX CENTER CONSOLE
253 WALKAROUND
261 DELUXE 261 DELUXE SERIES
261 DELUXE 262 W/BRACKET