MANITOU PONTOON BOAT COVERS FROM NATIONAL BOAT COVERS
National Boat Covers offers the widest variety of high-quality boat covers for Manitou Pontoon Boats. Choose the perfect fit boat cover for your exact model and size Manitou Boat using our drop down selector menu. Our boat covers are made with waterproof heavy-duty marine grade fabrics such as Sunbrella, Sunflair, and Marinex. These are the best semi-custom fit covers on the market today. Call our USA based cover experts for assistance. 800.616.0599.


Find your MANITOU PONTOON boat cover below: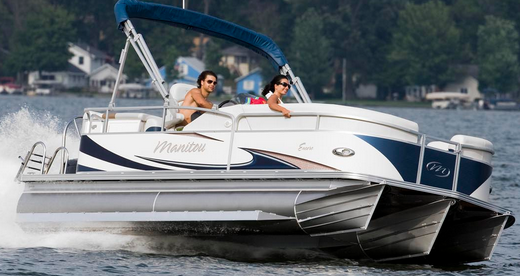 ABOUT MANITOU PONTOON
Manufactured under Triton Industries Incorporated, Manitou Pontoon began production of recreational family watercraft in 1986. Ranging in sizes from 16 to 28 feet in length, the performance abilities of Manitou Pontoon boats allow water enthusiasts to ski, fish or simply cruise on the water. Manitou Pontoon vessels utilize V-Toon technology designed to provide improved performance and handling.
MANITOU PONTOON FACTS 
Manitou did not set out to reinvent the pontoon, but by developing the patented V-Toon® Technology, they did manage to cut a significant wake through the boating industry. While some pontoon manufacturers claim to have performance boats that handle like a V-bottom sport boat, Manitou is the only company with patented V-toon technology. The company offers a far superior hull design providing greater acceleration, higher top end speeds, and increased stability.
Popular Manitou Pontoon Boat Models:
AURORA 16 CRUISE
AURORA 16 FISH
AURORA 16 LOUNGER
AURORA 18 ANGLER
AURORA 18 ANGLER FF
AURORA 18 CRUISE
AURORA 18 FISH
AURORA 18 LOUNGER
AURORA 18 STANDARD
AURORA 18 SUNDECK CRUISE
AURORA 18 SUNDECK FISH
AURORA 20 ANGLER
AURORA 20 ANGLER 25"
AURORA 20 ANGLER FF
AURORA 20 ANGLER FF 25"
AURORA 20 ANGLER FF VP
AURORA 20 ANGLER VP
AURORA 20 LOUNGER
AURORA 20 LOUNGER 25"
AURORA 20 LOUNGER VP
OSPREY
OSPREY
OSPREY
SPIRIT
20
20
2019
2019
2019
2022
2022
2022
24
24
2419
2422
2422
28
28
2822
ENCORE
ENCORE
ENCORE
ENCORE
ENCORE 20 GROUP L F2
ENCORE 20 GROUP L F2 SHP
ENCORE 20 GROUP L F2 TRI
ENCORE 20 GROUP L F2 VP
ENCORE 20 STANDARD
ENCORE 20 STANDARD SHP
ENCORE 20 STANDARD VP
ENCORE 22 GROUP L F2
ENCORE 22 GROUP L F2 SHP
ENCORE 22 GROUP L F2 TRI
ENCORE 22 GROUP L F2 VP
ENCORE 22 STANDARD
ENCORE 22 STANDARD SHP
ENCORE 22 STANDARD VP
ENCORE 23 SE SHP
ENCORE 23 SE VP