MARITIME MARINE BOAT COVERS
ABOUT MARITIME MARINE BOATS
A company initially assembled under the name Maritime Skiff in 1991, the marine company formed by Paul Hureau and Bev Brown quickly established their boats as offshore-worthy crafts. Maritime Skiff was eventually purchased and later adapted the Maritime Marine to the company. Ranging 15 to 26 feet in length, the Maritime Marine boat line-up is entirely designed to with a unique hull created to provide a stable offshore boating ride as well as to minimize fuel consumption.

Find your MARITIME MARINE boat cover below: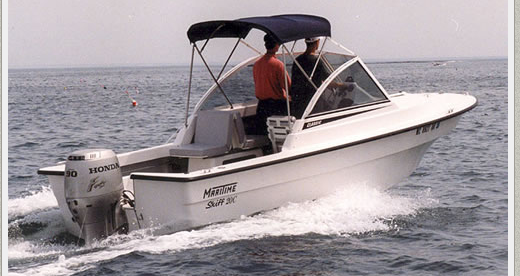 Popular Maritime Marine Boat Models:
1480/CC
1690/CC
18 DEFIANT/CC
1890/CC
20 CLASSIC/EC
20 DEFIANT/CC
20 PIONEER/CCC
2090/CC
23 CHALLENGER/CD
23 CLASSIC/EC
23 DEFIANT/CC
23 PATRIOT/CCC
23 VOYAGER/CCC
25 CHALLENGER/CD
25 CLASSIC/ED
25 DEFIANT/CC
25 PATRIOT/CCC
25 VOYAGER/CCC
26 CLASSIC/EC
Maritime Marine Facts:
Fiberglass Center Console Boats: Built using only the finest quality materials and state of the art design and construction, Maritime Boats feature a unique hull design that has all the sea-keeping features of offshore fishing boats but operate efficiently with low to moderate – sized engines. The result of our great hull design, quality construction and careful craftsmanship is a strong, sea-worthy, unsinkable boat that delivers a dry ride with impressive fuel efficiency that will make your time on the water enjoyable and affordable.