MIRROCRAFT/NORTHPORT BOAT COVERS FROM NATIONAL BOAT COVERS
National Boat Covers offers the widest variety of high-quality boat covers for Mirrocraft/Northport Boats. Choose the perfect fit boat cover for your exact model and size Mirrocraft/Northport Boat using our drop down selector menu. Our boat covers are made with waterproof heavy-duty marine grade fabrics such as Sunbrella, Sunflair, and Marinex. These are the best semi-custom fit covers on the market today. Call our USA based cover experts for assistance. 800.616.0599.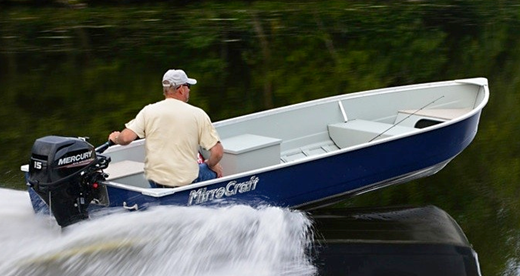 Find your MIRROCRAFT/NORTHPORT INC boat cover below:
ABOUT MIRROCRAFT/NORTHPORT INC BOATS
The Mirrocraft name first appeared in 1956 when a Wisconsin-based aluminum entered the boat market. Bought by company employees in 1982, the Northport Incorporated name took over the Mirrocraft name as a quality aluminum boat builder. Mirrocraft/Northport Incorporated caters heavily to anglers with jon boats and utility watercraft. The Mirrocraft/Northport Incorporated boat line-up also includes a number of runabouts.
MIRROCRAFT/NORTHPORT INC BOATS FACTS
Mirro Aluminum Company of Manitowoc, Wisconsin first began production of aluminum boats in 1956. Marketed under the name of MirroCraft, the original line offered a series of quality boats for recreational fishing and pleasure. Gradually, as demand grew, the boat line was expanded to include boats from 10-19 feet in length with varying inside configurations and features.
Popular Mirrocraft/Northport Inc Boat Models:
1661 TROLLER LTD
1676 STRIKER XL
1677 STRIKER XL
1700 ULTRA PRO TILLER
1700 ULTRA PRO-TL
1701 ULTRA PRO
1702 ULTRA PRO AL TILLER
1702 ULTRA PRO AL-TL
1703 ULTRA PRO AL
172 MOD V JON
1730 HOLIDAY
1730 PRO FISHERMAN
1735 GUIDE IMPACT
1736 GUIDE IMPACT
1736 GUIDE IMPACT TILLER
1745 DUAL IMPACT
175 MOD V BASS N JON
1751 MOD V JON
1755 AGGRESSOR XL
1756 OUTFITTER XL
1236 JON
1400 EAGLE
1410 STRIKER
1412 STRIKER XL
1415 STRIKER LTD
1436 JON
1460 TROLLER LTD
1461 TROLLER LTD
1567 PRO STRIKER
1568 PRO STRIKER
1600 OUTFITTER
1603 ULTRA
1604 ULTRA TILLER
1604 ULTRA-TL
1612 STRIKER XL
1615 STRIKER LTD
1625 AGGRESSOR
1628 TROLLER XL
1630 PRO FISHERMAN
1660 TROLLER LTD
1757 AGGRESSOR MAG
1835 STRIPER
1845 DUAL IMPACT
1902 ULTRA PRO CLASSIC
1930 PRO FISHERMAN
1935 MAGNUM IMPACT
1957 HOLIDAY XL
2095 TROPHY STRIPER
3654 DEEP FISH II
3654 DEEP FISHERMAN II
3696 DEEP FISH II
3696 DEEP FISHERMAN II
448 MOD V JON
451 MOD V JON
4602 RESORT
4604 RESORT
4650 DEEP FISH
4650 DEEP FISHERMAN
4652 SPORTSMAN
4656 DEEP FISH