MISTY HARBOR BOAT COVERS FROM NATIONAL BOAT COVERS
National Boat Covers offers the widest variety of high-quality boat covers for Misty Harbor Boats. Choose the perfect fit boat cover for your exact model and size Misty Harbor Boat using our drop down selector menu. Our boat covers are made with waterproof heavy-duty marine grade fabrics such as Sunbrella, Sunflair, and Marinex. These are the best semi-custom fit covers on the market today.
Call our USA based cover experts for assistance. 800.616.0599.


Find your MISTY HARBOR boat cover below: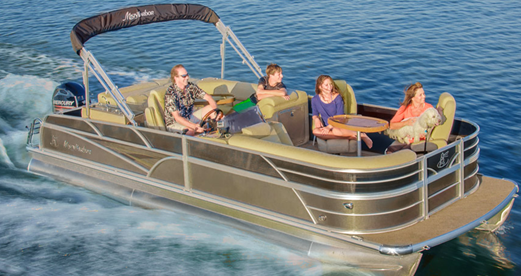 ABOUT MISTY HARBOR BOATS
Building pontoon and fishing boats, Misty Harbor is a Humboldt, Iowa marine manufacturer since 1987. Misty Harbor gained notice for producing high performance pontoon boats that measures between 14 to 26 feet in length. Made with aluminum hulls, the Misty Harbor fishing vessels are designed to be configurable to the likings of an angler. Misty Harbor products are created at an 115,000 square foot where high quality materials are employed in the manufacturing process.
MISTY HARBOR BOAT FACTS
Taking the extra step to make sure excellence is brought to bear in design, material, construction, and each part of our business means Misty Harbor pontoons will continually progress to every customer's delight. With excellence as the marrow of Misty Harbor's business success, our products will continue to include the safest, most dependable, and updated products available.
Popular Misty Harbor Boat Models:
SKYE VOYAGER 16 DC
SKYE VOYAGER 16 DT
SKYE VOYAGER 16 SSC
SKYE VOYAGER 16 SST
SKYE VOYAGER 16 UTILITY
STEALTH 166 C
STEALTH 166 T
STEALTH 169 C
STEALTH 169 W
STEALTH 189 FS
SUNSATION
SUNSATION
TROPHY
TROPHY
TROPHY 164 C
TROPHY 164 T
VOYAGER
VOYAGER 14 CANADIAN
VOYAGER 14 CT
VOYAGER 16 CANADIAN
D'LITE
SKYE 1031
SKYE 1231
SKYE 1236
SKYE 1436
SKYE 1754 MV
SKYE 1754 MVD
SKYE 1860 MV
SKYE 1860 MVD
SKYE 2070 MV
SKYE 2070 MVD
SKYE D'LITE
SKYE D'LITE CANADIAN
SKYE EXPLORER 1030
SKYE EXPLORER 1230
SKYE EXPLORER 1237
SKYE EXPLORER 1430
SKYE EXPLORER 1437
SKYE POLARIS 1450
SKYE POLARIS 1542
ADVENTURE 225 CF
ADVENTURE 225 CR
ADVENTURE 245 CF
ADVENTURE 245 CR
ADVENTURE 245 FC
ADVENTURE 245 RL
BISCAYNE BAY 2085 CS
BISCAYNE BAY 2085 FS
BISCAYNE BAY 2285 CS
BISCAYNE BAY 2285 CU
BISCAYNE BAY 2285 FC
BISCAYNE BAY 2285 FS
BISCAYNE BAY 2285 RL
BISCAYNE BAY 2585 CS
BISCAYNE BAY 2585 CU
BISCAYNE BAY 2585 RL
CRUISER
CUSTOM