MOOMBA BOAT COVERS FROM NATIONAL BOAT COVERS
National Boat Covers offers the widest variety of high-quality boat covers for Moomba Boats. Choose the perfect fit boat cover for your exact model and size Moomba Boat using our drop down selector menu. Our boat covers are made with waterproof heavy-duty marine grade fabrics such as Sunbrella, Sunflair, and Marinex. These are the best semi-custom fit covers on the market today.
Call our USA based cover experts for assistance. 800.616.0599.


Find your MOOMBA boat cover below: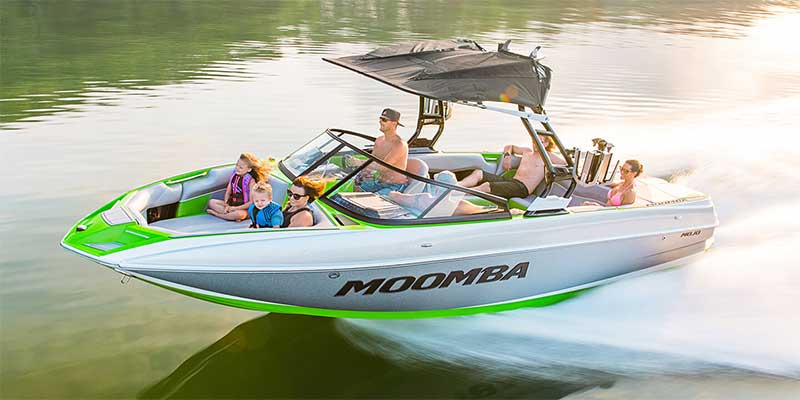 ABOUT MOOMBA BOATS
Born from a product mold acquired from an Australian boat company in 1989, the manufacturer now known as Skier's Choice Incorporated adopted the Moomba brand to their new towboat. Moomba's boat line features the ingredients ideal for fun powerboat activities such as skiing and wakeboarding. Targeted as a low-cost, inboard boating solution, Moomba vessels feature performance and high quality all fiberglass construction.
MOOMBA FACTS
Introduced to the tournament wakeboard and water ski boat category as an affordable performance water sports boat, Moomba is a simply designed boat built for extraordinary performance without the added cost of needless complexity, trendy accessories and high profile athlete endorsements. Moomba Boats put the fun in function with everything you need and nothing you don't. Standard features abound with powerful engines, speed control, comfy seating, straight-line tracking, nimble handling, solid ride, pro-level wakes, massive storage, reliable performance, outstanding resale and years of dependable operation. Skier's Choice encourages all boating participants to learn and follow safe boating practices. 
Popular Moomba Boat Models:
OUTBACK LSV PRFRM PKG/SK
OUTBACK LSV/SK
OUTBACK PRFRM PKG/SK
OUTBACK V PRFRM PKG/SK
OUTBACK V WAKE PKG/SK
OUTBACK V/SK
OUTBACK WAKE PKG/SK
OUTBACK/SK
BOOMERANG
GRAVITY
MOBIUS
OUTBACK
BOOMERANG/SK
KAMBERRA WALKABOUT/SK
KAMBERRA/SK
KANGA/SK
MOBIUS LS PRFRM PKG/SK
MOBIUS LS/SK
MOBIUS LSV GRAVITY PKG/SK
MOBIUS LSV LIQ PKG/SK
MOBIUS LSV PRFRM PKG/SK
MOBIUS LSV/SK
MOBIUS V/SK
MOBIUS XLV GRAVITY PKG/SK
MOBIUS XLV PRFRM PKG/SK
MOBIUS XLV/SK
MOBIUS/SK
MOJO 2.5/SK
MONDO/SK
MOOMBA/SK
OUTBACK LS PRFRM PKG/SK
OUTBACK LS/SK
OUTBACK
OUTBACK/KANGA
KAMBERRA