NAUTIC STAR BOAT COVERS FROM NATIONAL BOAT COVERS
National Boat Covers offers the widest variety of high-quality boat covers for Nautic Star Boats. Choose the perfect fit boat cover for your exact model and size Nautic Star Boat using our drop down selector menu. Our boat covers are made with waterproof heavy-duty marine grade fabrics such as Sunbrella, Sunflair, and Marinex. These are the best semi-custom fit covers on the market today.
Call our USA based cover experts for assistance. 800.616.0599.

Find your NAUTIC STAR BOATS boat cover below: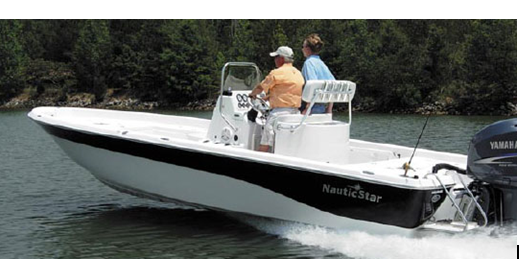 ABOUT NAUTIC STAR BOATS
Established in Amory, Mississippi in 2002, Nautic Star Boats began with the construction of a 19-foot center console watercraft and a 20-foot deck boat. Adding to their line-up years following with fiberglass vessels extending up to 26 feet in length, Nautic Star Boats rely on outboard and stern drive propulsion. Nautic Star Boats are suited to fishing trip or for simple cruises on the water.
NAUTIC STAR BOAT FACTS 
Nautic Star Boats are manufactured with the highest design, engineering and construction standards. The state-of-the-art manufacturing plant is second to none when it comes to processes and the staff takes pride in making sure quality and attention to detail are top priority. The engineers, designers and craftsman at Nautic Star are rich in boat building know how. Three generations of hands on experience have lead to knowledge of what will simply work and what will work exceptionally well.
Popular Nautic Star Boats Boat Models:
205
205DC SPORT DECK/DB
205SC SPORT DECK/DB
206
206DC SPORT DECK/DB
210 ANGLER/CC
210 COASTAL BAY/CC
210 COASTAL NAUTIC BAY/CC
210 COASTAL/CC
210 FAMILY ANGLER/CC
210 SPORT DECK/DB
2100 NAUTIC BAY/CC
210DC SPORT DECK/DB
210SC SPORT DECK/DB
2110 NAUTIC BAY/CC
2110 SE NAUTIC BAY/CC
2110 SHALLOW BAY/CC
2110 SPORT BAY/CC
2110 SPORT/CC
214XTS SHALLOW BAY/CC
1800 NAUTIC BAY/CC
1810 NAUTIC BAY/CC
1900 NAUTIC BAY/CC
1900 OFFSHORE SPORT/CC
1900XS OFFSHORE/CC
190RG/CC
1910 NAUTIC BAY/CC
200 SPORT DECK/DB
200/
2000 OFFSHORE SPORT/CC
2000 OFFSHORE/CC
2000DC OFFSHORE/BR
2000XS DC OFFSHORE/CC
2000XS OFFSHORE/CC
2000XS/CC
200SC SPORT DECK/DB
202
202 SPORT DECK/DB
202SC SPORT DECK/DB
203DC SPORT DECK/DB
214XTS/CC
2200 NAUTIC BAY/CC
2200 OFFSHORE/CC
2200 SPORT/CC
2200TE NAUTIC BAY/CC
2200TE PRO BAY/CC
2200XS OFFSHORE/CC
222DC SPORT DECK/DB
222SC SPORT DECK/DB
223DC SPORT DECK/DB
224XTS/CC
230 SPORT DECK/DB
2300B SPORT DECK/DB
230DC SPORT DECK/DB
230SL SPORT DECK/DB
232DC SPORT DECK/DB
232SC SPORT DECK/DB
2400 NAUTIC BAY/CC
2400 SPORT/CC
2400TE NAUTIC BAY/CC