OCEAN EXPRESS INC BOAT COVERS
ABOUT OCEAN EXPRESS INC BOATS
Building quality offshore vessels since 1993, Ocean Express Incorporated produces a variety of catamaran style powerboats. Ranging from a 15-foot racing vessel to a 48-foot motor yacht, the Ocean Express Incorporated line-up all feature a performance-oriented design. Ocean Express Incorporated, under the direction of founder Ross Focht, grew into a successful Michigan-based marine business utilizing modern technologies and materials.

Find your OCEAN EXPRESS INC boat cover below: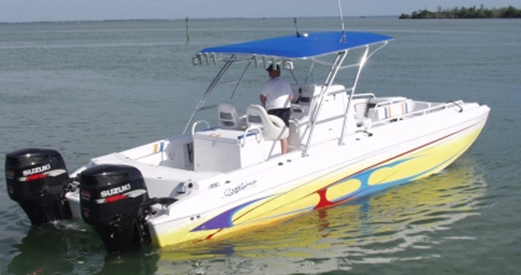 Popular Ocean Express Inc Boat Models:
CNTR CNSLE FISH/SF-OB
MINI RACER/SR-OB
OCEAN EXPRESS 15-OB
OCEAN EXPRESS 21 CC-OB
OCEAN EXPRESS 25-OB
OCEAN EXPRESS 28-I/O
OCEAN EXPRESS 31-I/O
OCEAN EXPRESS 33-I/O
OCEAN EXPRESS 39-I/O
OFFSHORE SUPER SPORT-I/O
SUPER SPORT/OS-I/O
SUPER SPORT/OS-OB
Ocean Express Inc Facts:
To bring the offshore catamaran into the space age, modern materials and designs must be used. Recent years have produced a revolution in the fiberglass boating industry. There is no longer a need to produce huge, heavy offshore boats equipped with giant, fuel guzzling engines, in order to have a fast boat. Strength can be engineered by using the proper materials for the job rather than adding more material like most production boat builders.