OSPREY BOAT CO INC BOAT COVERS
ABOUT OSPREY BOAT CO INC
Established in 1992, Osprey Boat Company Incorporated manufactured sport fishing boats in the state of Washington. Osprey Boat Company Incorporated fiberglass vessels ranged from 22 to 30 feet in length. The final year of production for Osprey Boat Company Incorporated occurred in 2004 when the company was sold to Triton Marine Industries.

Find your OSPREY BOAT CO INC boat cover below: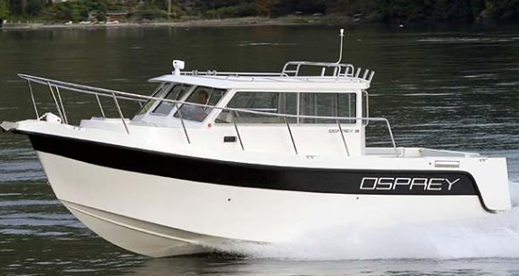 Popular Osprey Boat Co Inc Boat Models:
CANNON RUNNER/WA
EURO
EURO/WA
EXPEDITION/WA
FISHERMAN
FISHERMAN LONG CABIN
FISHERMAN/WA
LONG CABIN/WA
NORTHWIND/WA
OFFSHORE
OFFSHORE LONG CABIN
OFFSHORE STANDARD CABIN
OSPREY 26 LC/WA
OSPREY 26CC/SF
OSPREY 28 LC/WA
OSPREY 30 LC/WA
OSPREY 30/WA
OSPREY CD
OSPREY COMMERCIAL
OSPREY FL LONG CABIN
OSPREY FULLY LOADED
OSPREY LONG CABIN
Osprey Boat Co Inc Facts:
Since 1989, Osprey Boats have been one of the premier sport fishing boats in the Pacific Northwest. Now being built by the most experienced fiberglass boat builder in America, Osprey Pilothouse understands the level of quality expected from buyers in the competitive boat building market, and demands superior standards from every boat they manufacture. With the expansion of Osprey Pilothouse's national and international dealer network, their facilities will enable them to continue adding new models to their line-up without sacrificing the integrity and performance standards they are well known for.