PANTERA BOAT COVERS
ABOUT PANTERA BOATS
Building their first 24-foot performance speedboat in 1975, Pantera quickly accumulated a reputation in boat racing. The biggest honor for the Pantera company is the SBI Factory 1 World Championship in 2001. A Florida-based marine company founded by Pepe and Linda Nuñez, the custom offshore boats constructed by Pantera range from 24 to 41 feet in length. Pantera boats prides itself on high performance but features seating and other accommodations for passengers.

Find your PANTERA boat cover below: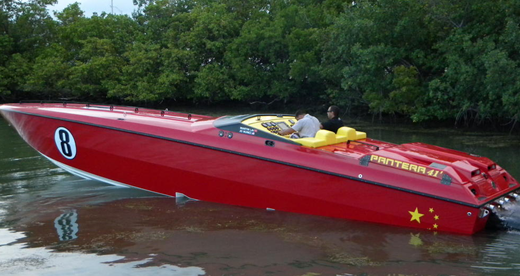 Popular Pantera Boat Models:
PANTERA
PANTERA 24
PANTERA 24 OPEN FSHRMN TW
PANTERA 24 SPEC
PANTERA 24 SPORT
PANTERA 24 SPT
PANTERA 24 SPT TWIN
PANTERA 28
PANTERA 28 SPORT
PANTERA 28 TWIN
PANTERA 33 SPORT
PANTERA 36
PANTERA 38 TOP RACER
PANTERA MODEL R
PANTERA OPEN FISHERMAN
PANTERA PLEASURE
PANTERA PLEASURE TWIN
PANTERA SE
PANTERA SPORT
PANTERA SURVIVOR
PANTERA TOP RACER
19
PANTHER
Pantera Facts:
Pepe's vision for Pantera's custom boat line was to construct a high performance boat, that could withstand the rigors of Offshore powerboat racing and incorporate the advances learned in the race coarse into the Pantera boat line. After winning many races over the last 29 years, establishing record runs ( Miami to New York in 1978 ) and producing hundreds of custom made boats, Pantera boats are known worldwide for a realistically priced boat built to customers exact specifications which is able to withstand maximum punishment.